Meet Leslie Urbas, Health Concierge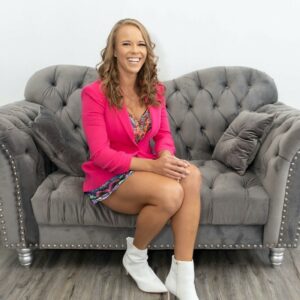 I have known Leslie for almost a year now, and there is one word that comes to mind when I think about her: ENERGY! Leslie has this positive, upbeat, happy, excited energy and I absolutely love it. What I also love and respect is Leslie's past experience being in the military. Leslie served our country working as a dietician for the US Navy!
Five years ago, she started her weight loss, nutrition and fitness business, with a goal to help people lose weight (of course), but more importantly, to help them feel better, have more energy, love their bodies, and truly enjoy their lives without worrying about counting calories and feeling shameful for eating too much.
I am so excited to have Leslie on the DGS trusted professionals team, because I think people going through a divorce could really use her ENERGY if they want to make changes with their relationship with food, their fitness regimen, and their life habits when it comes to fitness. Welcome, Leslie!
Sincerely, Jackie Pilossoph, Founder, Divorced Girl Smiling
Leslie's Bio:
Leslie Urbas is a Registered Dietitian and Personal Trainer. She is originally from St. Louis Missouri where she received her Bachelors in Nutrition and Dietetics from Fontbonne University. After her Bachelors, she finished her internship at St. Louis University majoring in Sports Nutrition. Immediately after college, she joined the United States Navy as a Dietitian. She served 3 years active duty and 6 years in the Reserves. During her time in the Navy, she received her Master's in Science and Nutrition from the University of North Florida. She now runs LeslieUrbas.com, her health, wellness and fitness company and brand designed to help people lose weight, get fit, have a better relationship with food, and live a happy, healthy life. Learn more: LeslieUrbas.com.
Connect with Leslie on Social Media:
Testimonials:
I have never yet, in 41 years and as an ex-personal trainer myself up to 1999, met someone who can help you move through the right inner changes alongside all the outer ones in terms of creating our highest sense of health, wellness and wellbeing. Leslie's work is totally life changing. It's more than 'only' sound nutrition advice and creative ideas; and more than 'only' expert workouts and physical training to help boost us into our best shape! Leslie offers her whole heart in every experience, and really connects with her clients on a deep level. You can feel it's her calling. (Probably why her Client Renewal rate is so high!) If you're looking to invest in your health, happiness, physical + food freedom… and you want REAL results: then Leslie is the woman you need to hire! – Kristen Miller
Leslie is a well educated, diligent clinician, who takes her job helping others attain a better health status very seriously. She has worked at the Branch Health Clinic, Mayport, for over two years, counseling our enrolled patients on a variety of topics ranging from weight reduction, diabetes, hypertension, hypercholesterolemia, hypertriglyceridemia, and a multitude of other diagnoses. She is an excellent clinician with a great track record. Her patients are very successful with the counseling and education she provides. I would recommend Leslie for any position within Nutrition Management. – Alan Siewertsen
Articles by Leslie: