Meet Elaine Moss and Peter Mullins, CDFA, CFP from Vestor Capital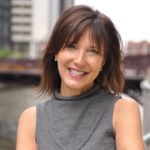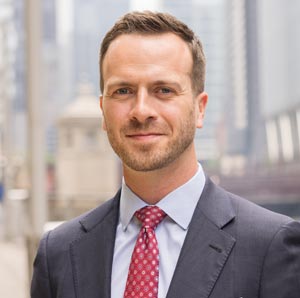 I met Elaine Moss at a breakfast place on the North Shore, in 2015, where we instantly connected. Shortly after, Vestor Capital became a Divorced Girl Smiling partner and I became a client of Vestor Capital. Elaine and her partner, Certified Divorce Financial Analyst, Peter Mullins completed an extensive, detailed financial plan for me that was eye-opening, and paved the way for my making good life and financial decisions moving forward.
In some cases, people going through a divorce have often never been "in charge" of the family's finances, and therefore have no idea what to do.  Other times, a person doesn't want their money invested with the same financial person they used with their soon-to-be ex. This is why it's a good idea to talk to a couple advisors, to see if you feel like the person is a good fit for you.
Elaine has this way of making people feel comfortable and calm, which isn't easy for a lot of people when it comes to money! Both Elaine and Peter are wonderful listeners, and they always make you feel like they are there for you, and willing to spend as much time as you need. They go out of their way to make clients feel secure, comfortable and good about their portfolios. Over the past few years, I have referred many clients to Elaine and Peter, and they've gotten wonderful reviews. Elaine and Pete are licensed to work with clients all over the U.S.
Sincerely,
Jackie Pilossoph, Editor-in-chief, Divorced Girl Smiling
Elaine's Bio:
Elaine Moss is a Vice President and Senior Advisor at Vestor Capital. She has extensive experience in advising high-net-worth clients and providing holistic wealth management and planning to clients. She has a particular focus on working with women, especially those facing life transitions such as divorce. Elaine has been in the financial services industry since 1986. Prior to joining Vestor Capital, she worked for Bear Stearns, and Tucker Anthony. She holds a Bachelor's degree with a concentration in Political Science from Tulane University. To contact Elaine, visit Vestor's website, or email: emoss@vestorcapital.com.
Peter's Bio:
Peter J. Mullins joined Vestor Capital in 2013 as a Wealth Management Advisor. He is responsible for strengthening client relationships, research, technology and new business development. Peter advises clients on a broad range of financial matters and utilizes the extensive resources of Vestor Capital and his knowledge as a CERTIFIED FINANCIAL PLANNER® to develop a personalized financial plan and investment strategy for each client. He also specializes in advising 401(k) plans regarding plan design, investment menu construction, fiduciary education, and ongoing participant education. Prior to joining Vestor Capital, Peter was a Financial Advisor at Merrill Lynch for 4 years and owned Mullins Computer Solutions, a computer networking and repair company. He holds a BS in finance from the University of Arizona, is a CERTIFIED FINANCIAL PLANNER (CFP®), as well as a Chartered Retirement Planning Counselor (CRPC®) and Certified Divorce Financial Analyst (CDFA®). Professional Licenses: Series 66, CFP®, CRPC®, CDFA®
Office: 312-641-2400
Email: pmullins@vestorcapital.com
 Connect with Elaine/Peter/Vestor on Social Media: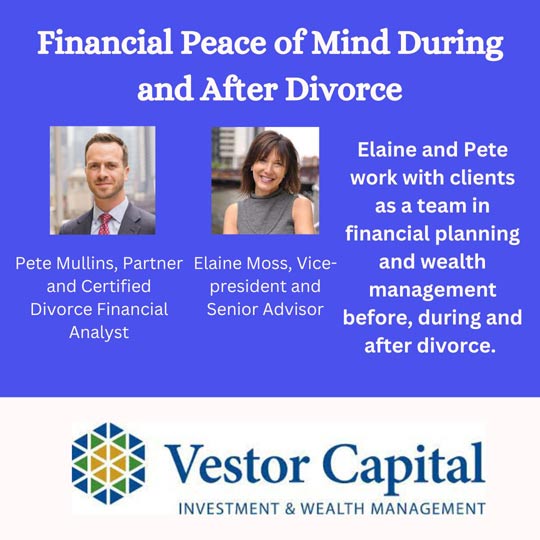 Article written for Divorced Girl Smiling