You CAN find the hidden money and understand your family's finances without spending thousands of dollars on a forensic accountant. Discover all the assets you're entitled to and get the divorce settlement you deserve by downloading The Divorce Money Guide!
One of the most stressful aspects of getting divorced is feeling like your spouse might be hiding money. To hire a forensic accountant (or to have your divorce attorney do that) can cost tens of thousands of dollars, and a lot of people either can't afford that, or they don't think it's worth it because it's so costly. Well, the Divorce Money Guide has you covered!
Developed by well-known Forensic Accountant, Tracy Coenen, the Divorce Money Guide is a tool to help you find out if your ex is hiding money. It's a 10-step handbook that walks you through what to do to find the money. You walk away with either a complete sense of relief because you now know he/she isn't hiding money, or you walk away with proof to give to your attorney, who can now take action to make sure your divorce is fair and equitable.
This is a no-brainer! You are spending tens of thousands of dollars on your attorney, and investing in the Divorce Money Guide is like paying for one hour of your attorney's time, and could prove to be the most valuable investment you made so far!
I am thrilled and proud to have the Divorce Money Guide as a Divorced Girl Smiling trusted partner!
Sincerely,
Jackie Pilossoph, Editor-in-chief, Divorced Girl Smiling
A note from Divorce Money Guide Founder, Tracy Coenen: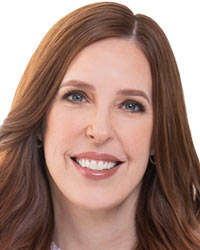 Even if you've never looked at your family's financials before, the Divorce Money Guide empowers you to get the settlement you deserve. Discover all the assets you're entitled to and have more control over your divorce.
You didn't want a difficult divorce to fall on you, I know. Having to deal with this big life change feels incredibly overwhelming.
I'm sorry this happened to you.
I'm also here to tell you that you can do it. I know you're afraid you might mess this up, but I've done everything I can to make it as easy as possible for women who don't want to pay $10,000 for a forensic accountant.
I promise, you will uncover every dollar, expense, and hidden transaction with the Divorce Money Guide.
You can get the Guide here.

Tracy Coenen, CPA, CFF, MAFF
Feel free to email me directly if you have any questions. I read and respond to every email.
The Divorce Money Guide helps you secure your future.
Follow the easy-to-use Guide and find the money you're entitled to. The Divorce Money Guide includes:
10 video tutorials
Step-by-step worksheets
10-step framework to locate and organize all statements
Template to gather account statements and previous tax returns
Tools to uncover secret accounts legally
Budgeting strategies to move your life forward
Steps to take after catching a cheater
Post-divorce checklist
Resources to find information on people, companies, and real estate
Lifetime access to all materials
Take the first step to reclaim your life.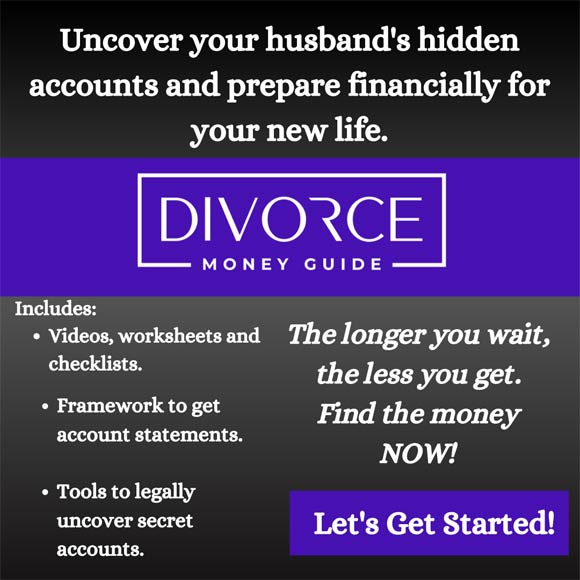 Connect with Divorce Money Guide on social media:
Divorce Money Guide's founder, Tracy Coenen on the DGS podcast:
Testimonials:
"As a divorce mediator, I know that being unorganized and unfamiliar with finances in a divorce significantly diminishes the ability to negotiate the best deal. The Divorce Money Guide is a user-friendly tool that helps your organize and familiarize you with your finances so that you can balance the bargaining power and achieve a fair resolution." – Kimberly A. Cook, Divorce & Family Mediator
"Wild goose chases are expensive. My clients wasted a fortune chasing non-existent hidden assets. But sometimes there was a pot of gold at the end of the rainbow. That goal was nearly always found because our motivated, diligent,  educated client did their homework. Divorce Money Guide teaches you what you need to know so that you can find your pot of gold." – Lee Rosen, 30+ years as a divorce lawyer
"Divorce is stressful. Tracy's guide helped me feel confident going into court. I knew our financial situation inside and out." – Suzanne
"Tracy's Divorce Money Guide not only saved me from an expensive and contentious divorce, the online handbook educated me on what to look for, when to seek help, and how to save money. I appreciated the knowledge and actionable items, as well as the peace of mind!" – Kate
"Following Tracy's step-by-step advice will give you the tools you need to solve the financial mystery in your divorce, and prove it to a court, if necessary. If you can't hire Tracy, this is the next best thing!" – Raiford Palmer, J.D., Managing Shareholder, STG Law
"Divorce is hard but there is one thing to make it easier. Divorce Money Guide is the perfect answer to all your financial questions. With real life examples and experience of seeing behind the financial curtain, this is a must-have. Do you think money is missing from your marriage? Do you think there could be fraud in the financials? Divorce Money Guide gets you started and saves so much money because you put it together. Don't pay attorney fees to do this work. This is part of you getting to understand what happens financially as part of your divorce." – Kelly Paxton, Fraud Investigator, Pink Collar Crime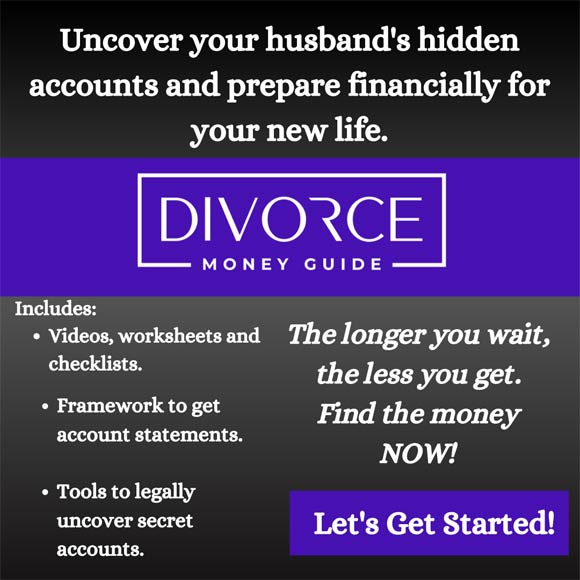 Written by Divorce Money Guide's founder, Tracy Coenen: