Meet Catherine Shanahan and Karen Chellew, Co-founders of My Divorce Solution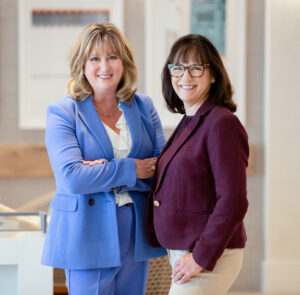 Catherine Shanahan and Karen Chellew are on a mission to change the way people get divorced. The company they built together, My Divorce Solution, offers a divorce preparation platform that helps those getting divorced save time, money and frustration.
You still obtain a divorce lawyer and/or a divorce mediator. My Divorce Solution doesn't take the place of those professionals. But what it does do is speed up the process A LOT (which means thousands or tens of thousands less money spent on a lawyer and/or mediator.)
Here's how it works. You pay a one-time fee, and then you begin working with Catherine and Karen on gathering your financials and basically doing discovery (which you are going to have to do anyhow!) Catherine and Karen then give you a "Divorce Financial Portrait" which you can then take to your divorce lawyer and/or mediator. Essentially, what this platform does is, cuts out tons of billable hours that you would pay your attorney to do it for you, and cuts out tons of time that it would normally take to get divorced. It's actually genius. My Divorce Solution shaves so much time and money off of a divorce.
I am so excited to be working with Catherine and Karen, and spreading the word about this amazing divorce preparation tool! Not to mention, these two women are delightful. They are so passionate about My Divorce Solution, and each one brings  professional and personal experience to the table. Both went through a painful divorce. Catherine is a Financial Advisor and Certified Divorce Financial Analyst, and Karen is the founder of a non-profit and a former law firm business manager. They are smart and driven to help you get divorced as easily and painlessly as possible. I welcome them to the DGS trusted partner team!
Sincerely,
Jackie Pilossoph, Founder, Divorced Girl Smiling
Catherine's Bio: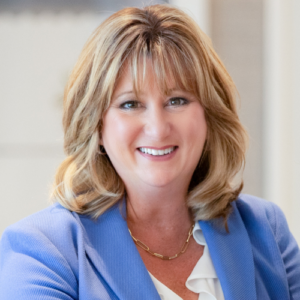 Catherine Shanahan is Co-founder of My Divorce Solution. With over 30 years of experience in the financial industry, Catherines serves clients as a Certified Divorce Financial Analyst (CDFA) and trained mediator. A Professional Daily Money Manager, Catherine is also a former VP of the Bucks County Collaborative Law Group, American Association of Daily Money Managers, Institute of Women Business Financial Analysts (IDFA), National Association of Women Business Owners, advisory council of Support Pay, and the Association of Divorce Financial Planners.
As a mom of five and financial expert, Catherine's experience with divorce left her wishing for better information, resources, and process for the financial separation that comes with divorce. As a result, Catherine co-founded My Divorce Solution – the company she needed in her divorce. If you'd like to contact Catherine, please reach out to her here.
Karen's Bio: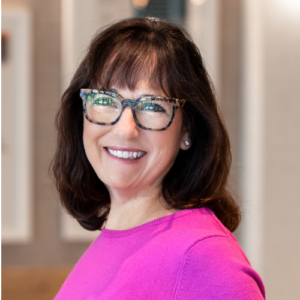 Karen Chellew is Co-founder of My Divorce Solution. With over 30 years of legal experience, Karen servers clients as a legal liaison – the central link that assures divorces are professionally executed as efficiently as possible. Karen is also a certified QDRO Administrator, Founder and President of Sisters U Foundation, advisory council of Support Pay, and an Auditor of East Rockhill Township.
As a divorced mom of three, Karen knows what it's like to navigate the dark waters of divorce alone and in the dark. Karen cofounded My Divorce Solution as the company she wished had existed in her divorce. She's committed to helping families navigate divorce differently – with financial clarity – not fear – driving decisions and compromise. If you'd like to contact Karen, please reach out here.
Follow My Divorce Solution on Social Media:
The Divorced Girl Smiling Podcast with Catherine and Karen:
Testimonials:
Catherine and Karen are amazing. They are thoughtful, intelligent and extremely efficient. I have been continually impressed by them and their entire staff throughout the process. They have made a very difficult situation much more manageable, and I feel confident in their skills as we navigate a fair solution for both parties. I highly recommend this company without reservation. Save yourself some major headaches and know that they will take great care of you during this stressful time. – Liz Stafford, March 2023
Soon after I signed on to My Divorce Solution, I realized that I signed on to peace of mind. All group members have been found to share in a compassionate and understanding way to my situation and have professionally formulated a financial strategy that I feel shall be of benefit to me upon finalization of my divorce. This for me provides peace of mind during this difficult period of my life. – Dan Krochmal, December 2022
My Divorce Solution was instrumental in helping me get through the divorce process. Although they did not mediate my divorce, they were there for me every step of the process. I could not have navigated all the highways and biways of divorce without them. – Leesa Shulman, March 2021
Thank you for all you have done for us and for others. I don't have to tell you that few things in life are more important and far reaching than how these family crossroads are handled, and you do it so well and gracefully. You and your work are truly a gift to society. – Vera Cole, March 2020
I had the privilege of working with Karen. She displayed such kindness and compassion towards me and took my hand every step of the way. My divorce was an extremely painful process, but I knew Karen was right there with me if I needed anything at all. Thank you so much! – Lori Kuhns, March 2019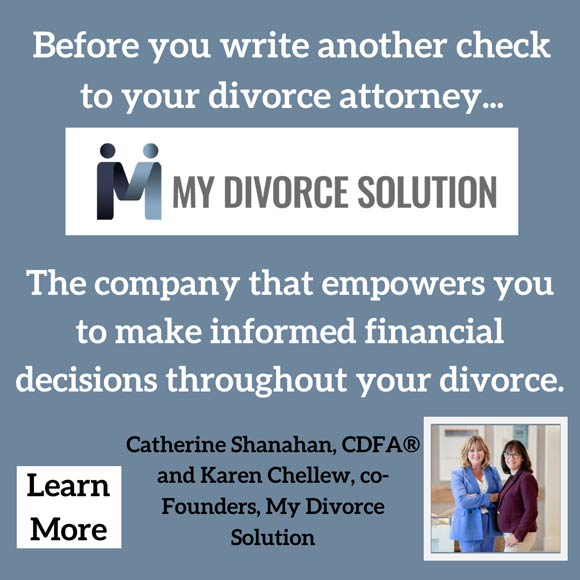 Articles by Catherine and Karen: