Meet Karla Kyte, Mortgage Lender, Branch Manager, Certified Divorce Lending Professional (CDLP)
Karla Kyte has been a mortgage lender for decades and loves the business. What she loves equally as much is helping people going through a divorce either stay in their homes or buy a new home. That's why Karla became a Certified Divorce Lending Professional. Full of energy and positivity, I can actually feel her passion when talking about the work she does with her divorcing clients. Having gone through a divorce herself, Karla can also relate to those getting divorce on a personal level. Karla is a branch manager for her company, CrossCountry Mortgage. I am so excited to have Karla on the DGS trusted professional team! Welcome, Karla!
Sincerely,
Jackie Pilossoph, Founder, Divorced Girl Smiling
Karla's Bio:
Karla Kyte is a Branch Manager and Originating Loan Officer at Cross Country Mortgage. She runs a successful team of high energy loan officers and assistants who are eager to help you through the home-buying process! From day one, over the last 25 years, Karla has built a successful business on referrals, which is why she and her team are committed to educating buyers on their financing choices throughout the process.
In addition to holding a mortgage license, Karla is also a Certified Divorce Lending Professional (CDLP). In all her years of doing mortgages, she could never understand why divorce attorneys did not consult with a lender before they put demands on clients that were not achievable due to lending guidelines. Karla brings financial knowledge and expertise to the often complicated untangling of a marriage. Those facing divorce need a great divorce team that is well versed in all aspects of the process, and a CDLP is a big part of the successful outcome of the divorce, as we help to structure the equity buyout of a retained home as well as the qualification of purchasing a new home.
Karla is a fourth generation Coloradan, married mother of four. When she's not in the office you can usually find her outdoors hiking, attending numerous sporting events for her two teenage boys, taking in a pool day with friends and family, or honoring her daily yoga practice.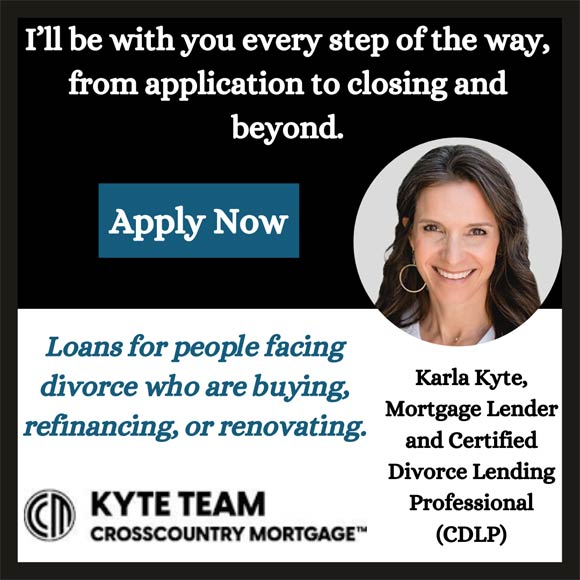 Connect with Karla on Social Media:
Testimonials:
August 10, 2023
Stephanie B
Very communicative throughout the process, answered all my questions (I have alot!) and super easy to upload documents and send information. Great team to work with! 
August 6, 2023
Victoria W
Karla and the Kyte team went above and beyond. They were a pleasure to work with, I highly recommend working with them.
August 4, 2023
Daniela M
This was my first time working with Karla, Kelsi & the Kyte team, and won't be my last. They communicate well, are friendly, knowledgeable and supported my buyers every step of the way. Highly recommend!
June 20, 2023
Olivia D
Karla Kyte and her team were wonderful to work with. They called with weekly updates and operated in a timely fashion. There was no muss no fuss, which I greatly appreciated. I would highly recommend the Kyte team at CrossCountry Mortgage.
June 11, 2023
Shelley L
I would highly recommend this team. They we're organized, on top of it and this wasn't an easy transaction! They hit a home run.
Articles by Karla: