Meet Alyssa Dineen, Online Dating Coach and Personal Stylist, Founder, Style My Profile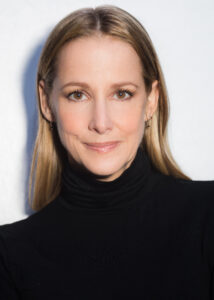 When people get divorced, almost always, they haven't dated in several years. The thought of putting yourself back out there can be terrifying. Plus, the way people meet and date has changed so much over the past decade, and there are people getting divorced who have never experienced online dating.
This is where Alyssa Dineen can help!
Alyssa started her company, Style My Profile to help men and women in dating after divorce. Alyssa, who has 20 years of styling experience and who personally dated after divorce, is here to help coach you through the online dating process. Alyssa offers one-on-one coaching, along with three different packages to work with her. She helps with:
1. Writing your online profile bio.
2. Photo shoots.
3. Choosing the best photo for your profile.
4. Communicating with matches.
5. Swiping do's and don'ts.
6. Dating questions.
7. Staying positive and inspired during those times when online dating seems hopeless.
Alyssa is also the author of her best-selling book, The Art of Online Dating.
I am so excited and honored to have Alyssa as a Divorced Girl Smiling trusted professional!
Learn more and set up a consultation here.
Alyssa on the Divorced Girl Smiling Podcast:
Alyssa's Bio:
Alyssa Dineen has been an editor, stylist, and art director in New York for over 20 years. After she divorced at age 41, she began online dating, and rediscovered herself in the process. Through this journey, she found many people out there that could improve their dating profiles and while doing so, their understanding of what they want. Founder of Style My Profile, Alyssa now helps online daters transform their destinies by taking charge of their profiles and their dating experience with her unique approach of "intentional" dating and self-discovery.
An acclaimed stylist and dating expert, Alyssa has appeared in The New York Times, Today Show, Goop, and NBC.com. You can work with her one-on-one, and she also offers workshops and a membership to be part of the Style My Profile Community. You can find out more at stylemyprofilenyc.com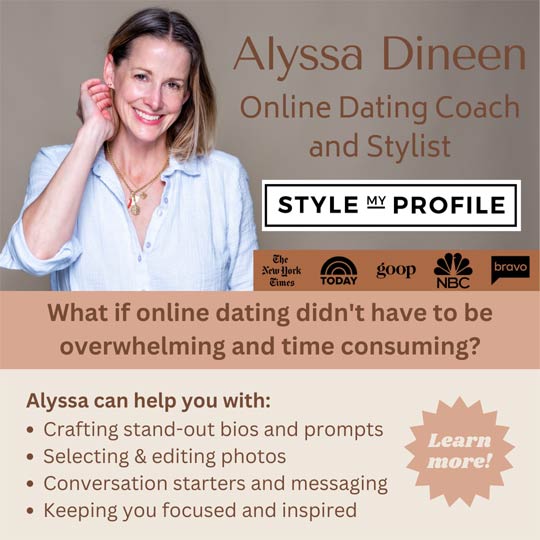 Connect with Alyssa on Social Media:
Testimonials/Reviews:
A M.
I have loved working with Alyssa, both as a personal stylist and as a coach / guide in creating my online dating profile, and absolutely felt more confident as a result of her help. She makes the otherwise intimidating worlds of personal styling and online dating feel not-so-scary, and she helps you create a style or profile (or both!) that's true to who you are. She's also just a delight to be around and has all the best qualities of your favorite New York friends: smart, funny, real, chic-but-down-to-earth and no bullshit (but in a kind way). She's a gem!
Dana R.
Alyssa is great because she challenges you to think about how you want to present yourself on your profile & gets you to focus on what is definitely a difficult task – talking about yourself. She also has a great eye!
Dina T.
Alyssa is a great personal stylist.  She's able to Incorporate and blend existing pieces from your closet to create a beautiful design and silhouette and match a personality and occasion.
Kris S.
I've worked with Alyssa since October 2018. She is attentive, creative and fun to partner with. Using the guidance I've been given I was able to retool my online profile to reflect a more accurate me. It has also given me confidence and new insight to who I really am and what I'm looking for. I would recommend spending time using this service to become your true self online and attract the people who are perfect for YOU!
Richard C.
Alyssa is a highly skilled personal stylist who has a great eye for how to present oneself in an online profile. Her selection of the particular clothing pieces to wear in each photo, her selection of the site for each photo (indoor and outdoor), her sense for lighting, body positioning and posing, etc. were terrific. The pictures she took were of professional quality and had a very natural, comfortable look to them! Additionally, she was extremely helpful in editing my existing written profiles for various online dating sites, and her editing instincts enhanced my written profile considerably. In fact, I received several unsolicited emails from women who remarked that my written profile was the best they had seen! The results speak for themselves. The response to my "restyled" profiles was immediate and overwhelmingly positive. I received considerably more views from women than previously, and a much greater proportion of my emails to women generated replies than I previously experienced. I can't recommend Alyssa highly enough!
Victoria Chant
Alyssa is an awesome help for anyone looking to update their closet and style. She helped me clean up my closet, made suggestions on how to wear my existing things. Shopping for new items was easy and efficient, and everything she picked suited my personality. Worth every penny!
Erin Kelly
Alyssa was such a delight to work with. She got me, and my style. She patiently and tactfully went through my closet with me, telling me what worked and didn't. She helped me make new outfits out of my existing clothes. She suggested pieces I might buy, with a considerate eye to my budget. I was such a stylish person after working with her! I felt so uplifted!
Katherine Salyi
Working with Alyssa was a great experience all around. She edited my closet and provided personal shopping services. She is patient, intentional and has a great eye. I use her styling tips every day I get dressed and remember her professional advice when shopping!
Natalie Nevares
Alyssa is the BEST! I can't tell you how many times Alyssa has saved me from totally giving up on dressing stylishly, and getting me properly dressed for presentations. Shopping with her is so amazingly smooth and easy. Before I arrive she already has just the right items picked out for me, so I'm in and out of the store in an hour or two. I also pay her to shop online for me seasonally, because Stitchfix sucks and doesn't know me personallt! As a busy, working mom / business owner on the go, Alyssa is invaluable. If you're looking for an amazing personal stylist, who is also sensitive, hire her!!
Articles by Alyssa: