Meet Matt and Anne Gabel, Founders of MJ Gabel, Diamond and Fine Jewelry Buyers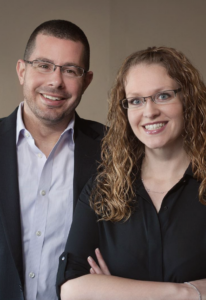 I think the year was 2011. I had been divorced for a few years and was at a point in my life where I was financially struggling a little bit and needed a little extra cash. My diamond engagement ring had been sitting in a drawer for about 4 years, and I felt like this was the right time and the right reason to part with it. I wasn't feeling emotionally upset having to sell it, and I didn't feel right about keeping it. It just felt right.
The first thing I did was take it to a local jewelry store. The owner happened to be a dear friend of mine (still is) and being the amazingly ethical person she is, advised me not to sell it to her. "I'm not the right person," she said. "You will get a lot more money if you go to someone who buys diamonds and jewelry."
I honestly can't remember how I met Matt and Anne, and found MJ Gabel, but I'm truly glad I did. After a conversation, I gave them the go-ahead to send me a pre-paid envelope for my ring. They told me there was no obligation, that if I wasn't happy with their offer, they would simply send it back to me. So, I did it. I sent it to them–they paid to fully insure it and then they called me and made me an offer. I have to say, it was so much more than I thought I would get! I was delighted to accept it and a few days later, they sent me a check. They probably do a direct deposit now since times have changed.
What I want to say about Matt and Anne, who are the sweetest couple (with two young kids and two dogs) is that they are honest, they are ethical, and they are truly dedicated to helping people during and after divorce should you want to sell your rings or other jewelry. I completely trust them. I am thrilled that MJ Gabel is now a Divorced Girl Smiling trusted partner. Welcome, Matt and Anne!
Sincerely,
Jackie Pilossoph, Founder, Divorced Girl Smiling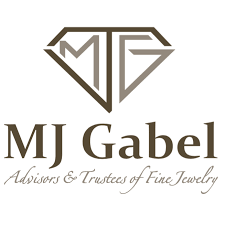 How can MJ Gabel help you?
1. Sell your ring and/or jewelry.
2. Consign your ring and/or jewelry.
3. Shop for jewelry in their online boutique.
4. Visit their store if you live near upstate New York.
MJ Gabel offers you options. What works best for you works for them!
There's no obligation to sell, and no automated system. You work personally with Matt and Anne.
The MJ Gabel Difference
written by Matt and Anne Gabel
While other companies may offer you one price for selling your diamonds, MJ Gabel dares to be different. We believe in the importance of you having all the options and the details of selling your unwanted or unused diamond jewelry.
What makes MJ Gabel unique is our ability to look at all fine jewelry & diamonds with a very detailed eye. Rather than only look at the primary diamond in your jewelry, we look at every item as a finished piece of jewelry whenever possible. This allows us to provide clients with tailored options on how they would like to sell their fine jewelry or diamonds. We work with all types fine jewelry, and diamonds, and will work with you to ensure a gratifying experience. We are passionate about what we do, and the service we provide to you. This is the MJ Gabel difference and is a critical promise that we make to you.
Learning what we can offer you starts with one simple step: having a conversation with one of our diamond specialists. At the most, all you will lose is a few minutes of your time, and what you could gain may be immeasurable. Feel free to visit our contact form to learn more about MJ Gabel and how we can help you in this important next step.
In a world full of big-box, all that glitters, and fast cash promotions, MJ Gabel dares to hold true to an honest, more transparent pace of doing business. As business owners who are also consumers, we recognize that certain things should not be up for negotiation; feeling valued as a customer and getting the highest value for your diamond jewelry are just two.
We are a family-owned and operated business team of jewelry professionals in Upstate New York. We take pride in our roots here in the Finger Lakes region. We are honored to take the time to work with each client on an individual level and customize our services to fit your needs. We always believe in evaluating every diamond jewelry piece for its highest potential value.
Connect with MJ Gabel on social Media:
Testimonials:
"I am extremely impressed with the service provided to me by Matt at MJ Gabel in helping me sell my wife's engagement ring. I had tried several avenues to maximize the sales price, starting first by approaching the jeweler who sold me the ring. Although the jeweler sold me the ring for $55k he was only willing to give me $33k for it. Others were offering $31k. Matt was able to help me realize $47k within a reasonable time frame. I am very grateful I found MJ Gabel."
– Eddie T. Austin, TX
"As a newly single mom of a little boy I no longer needed my engagement ring and was hoping to make at least some money by selling it to help us in our new future. I took the ring to a jewelry store and was offended by the ridiculously low offer they made me and Craigslist was just as disappointing.
I chatted online with Matt and was then encouraged to call Anne to discuss my options. I called, but honestly I was ready for a sales pitch that would include astronomical promises with no follow through. Instead I enjoyed my conversation with Anne, who was not only kind and professional, but incredibly knowledgable. I agreed to mail my ring to New York from Minnesota so Anne could evaluate it and offer me her expertise.
I kept waiting for the scam to show it's scary face, but it never did and instead I was shocked that Anne communicated with me every step of the way- calling when the ring arrived, letting me know when her evaluation would be done, talking to me on the phone about my options and finally helping me through the auction process.
The week of the auction I prayed that I would at least get a small number and when Anne called I teared up- the number was twice as much as I had prayed for. I was astounded at the professionalism, consistent communication and personal attention I received through MJ Gabel and will only continue to sing their praises to friends and strangers alike!"
– Laura From Minnesota
"I have had the most wonderful experience with MJ Gabel! Professional advice, courtesy, exceptional communication, and superior knowledge in the gemstone industry place this company above and beyond any of its kind. I have had firsthand experience selling precious valuables to this company and began my journey with trepidation, not knowing what to expect. My fears were alleviated from the moment I spoke with the knowledgeable Anne Johnson. She is so friendly and wonderful to work with, I was immediately at ease. Within days, we had established a rapport, my valuables were handled with care and explicit detail, evaluated with a full detailed report, an offer made, and the transaction completed. I had elected to have one valuable item returned to me, and they returned it promptly and in better condition than I had sent it in for evaluation. I was promptly paid as well. I cannot say enough positive things about this company and the care they took with both me and my precious items! Thank you again!"
– Alise M. Florida
"MJ Gabel was a great resource for me when I wanted to sell my diamonds. Matt was very detail oriented and kept me updated every step of the way. He made sure I was included on every decision and walked through all the stages of the process with me.
After trying unsuccessfully to sell my diamonds on the open market, MJ Gabel made things easy and quick. I highly recommend MJ Gabel to anyone trying to sell diamonds.
Highly satisfied"
– Jacob F.
"I was very pleased with the personal care and professional attention that Matt Gabel gave to me in selling our diamond. He displayed a deep understanding of the business and valuation process, and was honest and forthright in every respect."
– Jerry C. Pittsburg, PA
"What a great experience working with MJ Gabel. I am located in Las Vegas Nevada, and was introduced to MJ Gabel by a friend who had used them before. I was very uneasy and skeptical about sending my diamond half way across the US, but I had nothing to lose.
They had educated me, and gave me a few options for my diamond ring. I had chosen the Auction Service as I had thought that would bring me the best results. They had removed my diamond from the setting, sent the setting back to me, and prepared my diamond for auction. I was kept up to date the entire time. Not too long after I had received word that we had offers on my diamond. I was very pleased with the offer, and gladly accepted. A few days later I received my check in the mail for my diamond. Easy, Painless, and very helpful. A great experience dealing with MJ Gabel.
I will for sure recommend them in the future and plan on doing business with them again. Thanks guys!"
– J. Newberg, Las Vegas, NV
"When describing MJ Gabel, I would use the phrase added value. Their services and organization are second to none. MJ Gabel believes in a higher standard and great customer service. It was a pleasure working with them and refreshing given my experiences with others in the industry."
– Paul M. Springfield, IL
"I am a single mom from Wyoming looking to relocate and start a new chapter in me and my son's life, but I needed to sell my wedding set to pay for the move. I posted an ad on Craigslist and got scams or just ridiculous offers! One day I got an e-mail from Matt at MJ Gabel explaining what they do and offered possible assistance in selling my diamond. I was VERY leery at first and didn't respond to the e-mail for days, maybe even weeks!
I was getting desperate so I e-mailed him back asking a few questions. He was very helpful and reassuring. I finally sent him my ring and after they graded it and checked it out Matt presented me with a few options and suggested taking it to Auction.
He was very helpful and informative the whole time he had my diamond. After the Auction was finished he called me with my offer and I was very pleased and accepted it right then. I received my check a few days later and now my son and I are on our way to Arkansas! Thanks so much for everything and I will definitely recommend this company and use them in the future if need be."