Meet Michèle Heffron, Divorce Coach and Life Strategist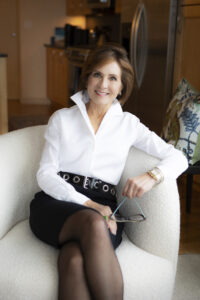 Fear, doubt and self-sabotage are three things that divorcing women are prone to, myself included all those years ago. When I was getting divorced, I wish I'd have had an opportunity to work with Michèle to help me with those emotions, and to help me get back on track and to a life I love. (I got there, but it would have been sooo much easier and would  have happened quicker with Michèle's help! There is so much to figure out after divorce and Michèle has the training, the experience, and the passion to do that.
What I love so much about Michèle is her story. She has lived the life of the demographic she is passionate about helping. Michèle said she hit rock bottom when she got divorced over a decade ago. With a collage-aged daughter and junior high-school aged son, she had no job, no money in the bank, and not even a credit card!
At age 49, Michèle set out to reinvent herself going back into the work force, raising her kids, caring for her aging parents, and then of course, starting her coaching practice. There is a positivity, a great energy and such class and grace I see in Michèle. I am so excited to have her on the Divorced Girl Smiling Trusted Professional team!
Sincerely,
Jackie Pilossoph, Founder, Divorced Girl Smiling
Michèle's Bio:
Michèle has decades of experience serving in executive leadership roles in both the corporate and nonprofit sectors. Her nonprofit work has focused on youth development, domestic violence prevention, and relationship health education. She earned her degrees in marketing and the fine arts from Eastern Washington University, nurturing her creative spirit and business acumen.
For 15 years, Michèle served as an advertising executive, but her most treasured role came when she embraced the joy of being a stay-at-home mom. One of the most treasured chapters of her life.
However, life took an unexpected turn in 2010 with her second divorce, leading her to establish a consulting company. As she helped businesses flourish, she discovered that beneath the surface, people were yearning for something more profound – a transformation of their beliefs and patterns obstructing their path to success. Friends and family also began seeking her guidance through their divorces, an unforeseen entrance into the world of coaching.
Michèle's evolution continued as she served as an executive for a national nonprofit organization, a role she had landed after working with one of her first coaches. Her belief in the power of coaching inspired her to earn her Life Coaching Certification through iPEC (Institute of Professional Excellence in Coaching) and a Divorce Coach Certification from IAPCollege.
Though Michèle wholeheartedly enjoys assisting people with various life challenges, her natural gravitation towards divorce coaching stems from personal experience and the countless lives she's touched throughout her lifetime. Divorce, an emotionally charged journey intertwined with practical necessities, drew her in. She understands that divorce can be one of life's most formidable trials, and having a supportive advocate can profoundly impact the settlement outcome and a person's well-being.
Service to others has forever been Michèle's North Star, illuminating her path in coaching. Her genuine love for people radiates through every facet of her work, creating a safe and comforting space for those she serves. With a gentle, compassionate, and warm approach, she stands by your side, ensuring your journey is met with understanding, empathy, and unwavering support.
You can contact Michèle at michele@micheleheffron.com or visit her website at www.micheleheffron.com
Connect with Michèle on Social Media:
Testimonials:
"Michèle's coaching helped me make a sound and informed decision about my divorce and helped me move beyond my marriage with grace and dignity and helped me rebuild my life and start a career. Today, my relationship with my kids is healthy and strong, and I have even developed a better and healthier relationship with my former husband." – Margaret
"At 57, I found myself alone and lost when my husband and soul mate suddenly died early in 2020 just as COVID was ramping up. I was feeling depressed and lonely and had no idea what was next for me. Through a friend, I found Michèle and felt so much at ease with her. We began working together to set a course for my new life towards a vision she helped me create. I rediscovered my passion for sewing and creating beautiful quilts and for my love of travel. I learned that I could do so much more than what I thought I could and am now living my life again." – Sarah