Meet Erik Feig, Mediator, Founder, Feig Mediation Group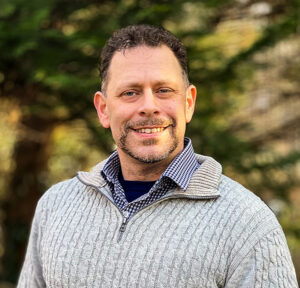 Family focused is the best way to describe Erik Feig's mediation practice. The veteran attorney turned mediator practices all different types of mediation, from business disputes to elder care issues and of course divorce. Being a father in a neurodiverse family, Erik also has a strong commitment to working with parents of neurodiverse and special needs children. Erik's passion for helping divorcing couples is so apparent in the conversations we have had. He strives to help parents become empowered, and to get through the divorce process amicably and with an outcome both feel is fair and equitable. Furthermore, he teaches co-parents how to communicate so that post-divorce, they learn how to solve problems together. Everyone benefits greatly, especially children. I am so excited to have Erik as a DGS trusted partner, and proud to be affiliated with Feig Mediation Group.
Sincerely,
Jackie Pilossoph, Creator and Editor-in-chief, Divorced Girl Smiling
Erik's Bio:
Erik M Feig founded Feig Mediation Group, a parent and family-focused mediation firm in Bethesda, Maryland to help parents, families and businesses create paths to more positive outcomes when important issues and decisions are on the line and communication can be most difficult.  He is a mediator, accomplished attorney, and parent of three amazing children.
As a mediator, he is committed to helping his clients align with each other when important issues and decisions need to be addressed and the old, familiar ways of doing things are no longer sufficient to meet the needs of today – or tomorrow. It's an approach that recognizes – and seeks to mitigate against – the stress and harm that can result from poor or ineffective communication and unresolved conflict.
As a parent in a neurodiverse family himself, Mr. Feig has a particular commitment to working with parents where neurodiversity and special needs are factors in their families.  He brings a practical, real-world approach to help parents engage each other more constructively when decisions impacting their neurodivergent children are required.
As an attorney with over twenty-five years' experience, Mr. Feig has worked with companies of all sizes and at all stages of development, from start-up through to exit.  He has a reputation as a hands-on, trusted counselor and business partner who not only "gets" his clients, but who is also skilled at helping them prevent and respond to issues in ways that create business and relationship opportunities. He has worked in private practice and as corporate General Counsel for an industry-leading organization, and holds certifications from the International Association of Privacy Professionals.
His experience and training extends to both family mediation and commercial business mediation, including mediation for parents needing help when they are not – yet – on the same page, including when neurodiversity is a factor in the family, separation and divorce (e.g., co-parenting and child access issues, and economic issues such as division of property and assets, and support), mediating high conflict family disputes, elder and adult family mediation, parenting coordination, and collaborative law practice.
Indeed, in the context of the collaborative law process he is a firm believer that a neutral mediator who does not have a stake in the outcome can be a valued resource to help get through impasse and sticking points, while supporting the goals and success of the collaborative law process.
Combining all of this with a background in engineering that is rooted in designing and developing practical solutions to complex problems, Mr. Feig draws from an extensive toolset that sets him apart from so many practitioners with "traditional" notions of what mediation can achieve. He helps his clients expand their perspectives to see the bigger picture so that they can better explore what's possible, collaboratively and with less stress, thus facilitating more positive outcomes.
Mr. Feig received his law degree from Fordham University School of Law and his undergraduate degree in Mechanical Engineering from Cornell University. He is a member of the bars of Maryland, Washington DC, and New York.
A lifelong learner who believes strongly that every day offers opportunities to learn and expand how he may better serve the families he works with, Mr. Feig is a member and contributor to two professional discussion and learning groups, including through the Mosten Guthrie Academy, where he shares best practices with other leaders in the field. He is a member mediator on the rosters of Collaborative Dispute Resolution Professionals of Maryland and Collaborative Professionals of Baltimore, and is on the roster of approved mediators for the Circuit Court of the City of Baltimore, MD.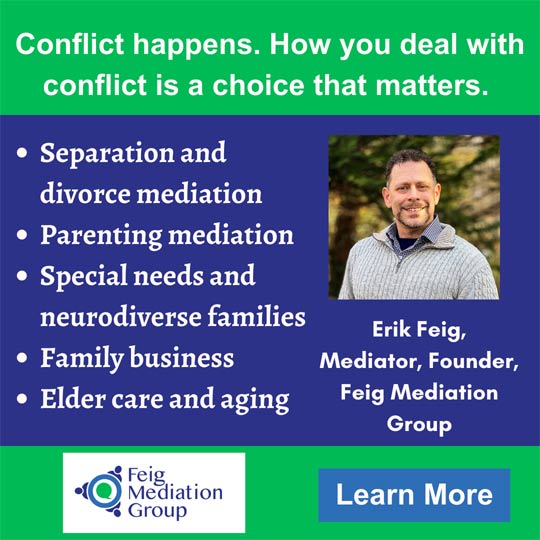 Connect with Erik on Social Media:
The Divorced Girl Smiling Podcast featuring Erik:
Articles by Erik