Meet Daniel Stefani, Divorce Attorney, Principal and co-Founder, Katz & Stefani, a Chicago Divorce Law Firm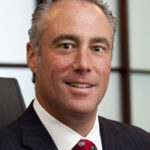 I originally met Dan Stefani almost 20 years ago. We met through friends, we live in the same community, our kids go to school together and we belonged to the same gym for a long time.
Dan, who has been practicing divorce law for 27 years, is extremely well-known and well-respected in the divorce law industry, and is known for his success in litigating divorce cases. Equally important, I find Dan to be extremely compassionate, kind and caring to his clients. Dan has immense respect for the law, and much dedication for servicing his clients.
I have reached out to Dan over the years for consultations for my own divorce, and he has always been extremely helpful. His co-Founder, Andre Katz, as well as the other 9 partners and associates at Katz & Stefani are all unique in their specialties, and all highly regarded in the industry. Someone to whom I recently referred Dan sent me a really nice note which said, "I cannot thank you enough. I don't know what I would have done without Dan."
Sincerely,
Jackie Pilossoph, Editor-in-chief, Divorced Girl Smiling
Dan's Bio:
Daniel R. Stefani is a Divorce Attorney and the co-Founder of the Chicago based law firm, Katz & Stefani. He has practiced exclusively in the area of matrimonial for his entire career which spans almost three decades.
Dan is recognized nationally for his innovation in both litigation and settlement of financial issues pertaining to matrimonial law, particularly those that require detailed analyses of complex transactions and business valuations. His work on behalf of mainly high net worth clients, as well as spouses of high net worth individuals, involves valuations of closely held corporations, partnerships and other entities, child custody and child support issues, as well as paternity and domestic violence.
Dan has been selected every year for inclusion in U.S. News & World Report's prestigious publication, "Best Lawyers in America," and was named by Chicago Magazine as a "Top Family Law Practitioner." He was selected by the Leading Lawyers Network and Super Lawyers Network as a top family law practitioner in Illinois. U.S. News' "Best Law Firms" has also continually ranked Katz & Stefani, LLC as a Tier One firm, the highest ranking awarded.
Katz & Stefani has offices in Chicago and Riverwoods. To learn more about the firm or to contact them, visit the website, or call: (312) – 364-9000.
Connect with Katz & Stefani on social media
The Divorced Girl Smiling Podcast with Guest, Kate McMahon Vivanco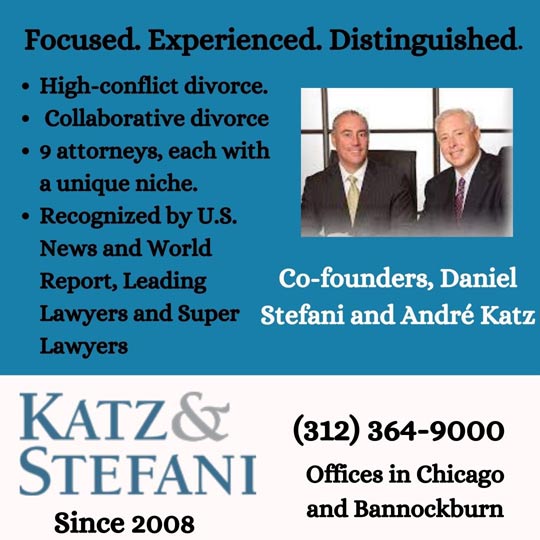 Articles written by Dan and other attorneys from Katz & Stefani: