I recently wrote a blog called, "Dear Abby…I mean, Dear Jackie," offering divorce advice. Now I really feel like Dear Abby, because a few readers have emailed me, asking for divorce advice! Yay!
I love it and I'm happy to help. I'm not a therapist, just someone who has been there and who has seen a lot. I am giving this advice to my readers like I would a friend. So, you can take it, take some of it, or take none of it. Hope my divorce advice helps!
1. I'm going to a wedding and my ex is going to be there with the woman he's seeing, who he recently referred to as "someone he's never felt this way about." How am I going to get through it?
My first piece of advice is to make sure you look the best you can physically. I'm talking manicure, pedicure, and getting your hair and makeup done. Also a new dress, possibly new shoes, and/or accessories is almost a necessity. The better you feel about yourself physically, the more self-confidence and poise you will exhibit.
Secondly, say hello. In other words, don't avoid them all night. I'd even go so far as to say extend your hand to the woman and introduce yourself with a kind smile. Don't go over the top and be overly friendly or it might seem phony. Just be nice. Period. If you act civil and kind, your ex will feel terrible about himself. LOL. He won't have anything bad to say about you.
And lastly, don't drink too much. You don't need alcohol intensifying feelings and causing embarrassing drama. Just try to enjoy the bride and groom and other guests, and don't make this wedding about HIM. I know it's hard. Trust me. But, you can handle it. Think of it this way. You are getting this out of the way. It was bound to happen. Now you can say you already dealt with it. It's over.
2. My sister is siding with my ex on the divorce. I have found texts between her and my ex and they are becoming friends and getting together. Any advice on how to deal with this situation?
Every divorce is different and your sister is entitled to her opinion of who is to blame. Also, if you were married for several years, she might consider him equal to a brother. You have to try to understand that.
All that said, what she is doing is very much not cool! I am disappointed in your sister. Aren't sisters supposed to be best friends? Aren't we supposed to watch each other's backs? Defend each other? Is there anyone else we can trust as much or anyone who is as loyal as we are to each other? I can understand her not agreeing with your decision to be divorced, or not agreeing with things you might be doing during the divorce, but instead of becoming buddies with your soon-to-be ex, she should be trying to talk to you and help you. I think it's okay for sisters to express their feelings, but in the end, she should stand by you and your decision. As far as getting together with your ex, it is completely inappropriate and ridiculously unethical.
3. My soon-to-be ex is dating a woman who I just found out is going to be playing in the same golf tournament as I am. How am I going to deal with that?
I feel for you. Here you are just trying to enjoy a good game of golf, and now you have to deal with your ex's new squeeze on the green. I'm sorry! Just as in the woman attending the wedding, make sure you look your best. I'm not saying get your hair and makeup done for a golf tournament, but wear a nice golf outfit, make sure your hair looks nice, and get some great sunglasses.
Secondly, be kind to the woman. But not overly friendly. You might want to go up to her and confront the situation. Introduce yourself and then say something like, "I know this is awkward, but I hope you have a great game and I hope you enjoy yourself." That will make you look so classy! Plus, it's good for YOU! You will love yourself for taking the high road and you'll just be happier. I bet you will play great, too!☺ Last thing, after the initial conversation, don't keep talking to her. It's enough. You're never going to be best friends. Just enjoy your day and try not to think about it too much. Focus more on the game and on your friends.
4. My ex is on his honeymoon and I feel really strange. The divorce was my decision, yet I feel sad and very alone.
This is such a normal reaction, and one that I am personally familiar with. Actually, I've been in 3 out of 4 of these situations (not exact but similar). Here's the thing. I don't care how long you've been divorced, when your ex gets married or engaged or moves in with someone, it's a very strange feeling. You might be blissfully happy in your life, you might be in love at the moment, but it's still weird to think that your ex is starting a whole new life with someone else. It's very isolating and it makes you feel a little alone, I think. My advice? Let yourself feel that way for a little while. Process it.
Next, think about it. Do you want him back? Do you feel like you made a mistake? NO! So, just let yourself mourn the loss of what you had (again—you probably mourned it while you were going through the divorce or shortly after). Be happy that your ex is happy. It will probably be better for you and your kids because he will be nicer. And continue to live your life, enjoying your children (who will ALWAYS love their mother more than anything), pursuing your dreams, and focusing on the love you have with your family members and or your guy.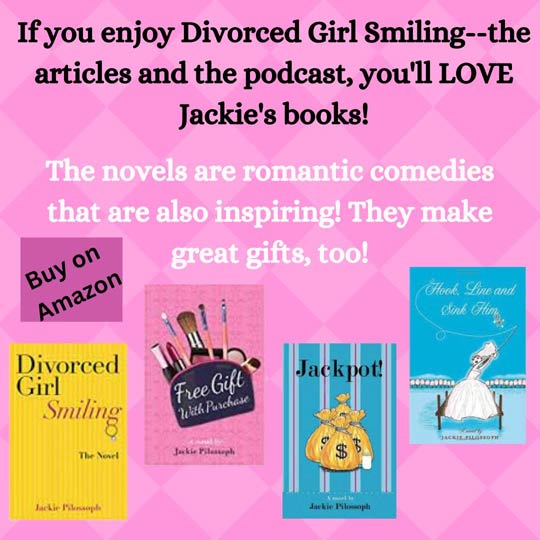 Share