I'm the kind of girl who just loves other girls. To me, girl friendships are incredibly valuable. My very best friends in the world are the Cinnamon 7, who have been my friends since high school and junior high, but I have many college girlfriends I adore as well. I have also met many many women in the 25 years I've lived in Chicago who are gifts to me.
Every girlfriend has unique and special qualities, and things I love and respect. I have girlfriends of all shapes, sizes, religions, races, financial situations, educational backgrounds, professional backgrounds, and personalities.
I know girls who I would love to hate because they that perfect physique, but I know girls who are so smart and don't wear makeup, who I'd give anything to be. I have friendships with girls who are known for getting me to stay out partying till 4 in the morning, and girls who have taught me many valuable lessons when it comes to character, giving back and achieving.
Girls are motivating. I can meet a woman and become completely infatuated by her, striving to model myself after a certain something I saw that she did. It might be a charity she volunteers for, it might be her sense of style, or it could be her sense of humor that has me smiling whenever she walks into a room.
I think it's a shame that so many women don't have enough self confidence. If I say to a friend, "You look so pretty today," she'll respond back, "Oh no I don't. I have gained 7 pounds since the holidays."
I'm guilty of it, too. People will come up to me and say, "I've been reading all your articles, you're so successful!" and I'll reply, "Well, I'm not there yet. I have a ways to go."
Why can't I just say, "Thanks"? and be proud of my hard work and think to myself, 'Yeah, she's right'
But I think women are just naturally humble and constantly striving to be better, which I actually admire.
Here's where I start to have issues. I understand that we all have insecurities, BUT, I seriously cannot deal with women who are so insecure, that they exhibit BAD behavior.
I'll give two examples. Last summer I was at a Cubs game with my girlfriend, Sandy, who is my age. After the game we stopped by a local bar in Wrigleyville… (Of course you did, Jackie!).
So, there were two really cute guys who looked like they were in their late 20's. One of them was wearing a Steeler's shirt, so I told him I was from Pittsburgh and we started talking. I BY NO MEANS was hitting on the guy, by the way. So, a few minutes later, in walk two girls who I guessed were there to meet the guys.
Now, these girls were also really young and they were both beautiful. So, if I was them, I'd have been thinking, "Aww, these two older ladies seem really nice." Instead, they glared at us like we were the enemy. They were completely unfriendly, and seemed annoyed with their boyfriends for talking to us. They really were eyeing us up and down, and were territorial from the second they saw us.
I could not believe it. I was seriously shocked (and disgusted) that these girls felt threatened by Sandy and me. The other thing is, if you're familiar with Wrigley field bars, it's an extremely friendly area, where everyone is happy and chatty. I wanted to say to these girls, "I'm so sad that you are so insecure that you can't even open up your mind and talk to two suburban moms for 10 minutes."
My second story has to do with a woman who is in her 50's. She's married to this guy (also in his 50's) and they have a clothing business for women. The guy asked me if I wanted to sell books at an event they were having. So, I show up there, and the wife was so bitchy to me, it was scary. I felt like she thought I was having an affair with her husband. I could not believe it. I'm pretty sure it's a second marriage, so maybe there's some baggage, but she was so downright rude, I almost felt like crying. To make things worse, all of her employees were cold, distant and disinterested in me and my books.
Keep in mind I had to pay a babysitter to come to this event, and I'm standing there being treated like dirt by everyone because an insecure woman is judging me, when I've done nothing wrong. I wanted to say to her, "Good luck with your marriage. You'll need it."
Look, everyone is insecure in some ways. It's very hard, especially when you're divorced and getting older to feel confident and sexy, and for lack of a better word, young.
But, here's the good news. I feel like as I've gotten older, I look at men and women from the inside out. A man can be drop dead gorgeous, and he can have a personality that makes me want to vomit.
On the other hand, I find a lot of middle aged men attractive, men who are bald (love the bald look, by the way-I think it's sexy and sophisticated), men who might not have the rock hard abs like the guys at the Wrigleyville bar, but who are smart, and interesting and who have lived. They're not  afraid to level with you and really be themselves.
It's the same for women. I look at the total package. I look at what they've done in life, what they've accomplished, what they are accomplishing now. All this can make someone so much more attractive.
So, who cares if you're a few pounds heavier than you were when you were younger? Who cares if you desperately need Botox? Who cares if you have a little bit of back fat that probably only you are aware of? And who cares if you have to whip out your glasses to look at a menu?
If you stand tall and say to the world, "This is who I am, you either like me or you don't" and if you are living your life and accomplishing, or having the goals to accomplish your dreams, you should have more self confidence than you could ever need. And that confidence you exude will attract both men and women to you.
And one last thing, STOP comparing yourself to other women. I did that a long time ago. I know a million gorgeous women whose looks I'd give anything to have, but instead of focusing on how much prettier they are than me, I focus on what I have, which is first and foremost, health, healthy children, a great career, and actually, I think I'm kind of cute for an old woman!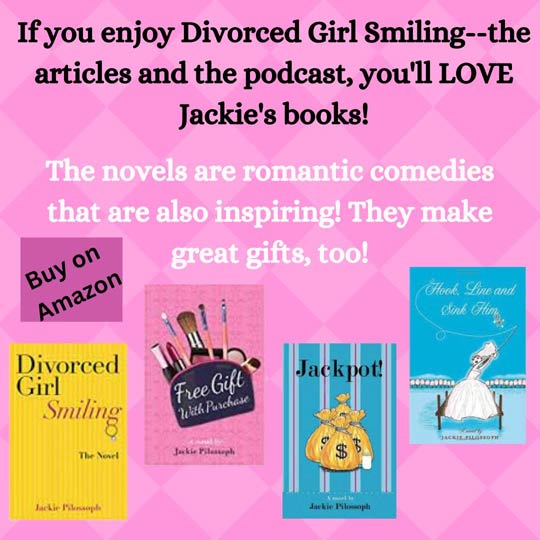 Share