Divorce is a time of self-reflection; an opportunity to really look at yourself from the inside out and figure out what you want your new life to look like. That can include anything you want— lifestyle changes, romance, a new career, or the way you look and feel physically. I'm not divorced, but as a registered dietician and personal trainer, I've spent enough time with women getting divorced to know that looking and feeling your best plays such a big role in being happy and healthy. People often ask me: How do you love yourself and be confident when it comes to your body? I want to answer that by telling my own personal story.
This is my story of how I learned to love myself and be confident in my body.
There I was just sitting there staring at the bag of chips in complete disbelief.  It was now a completely empty bag of chips … that I had opened less than an hour before. And I'm not just talking a bag of chips. I'm talking the king size bag of chips that feeds a family.
The next thing I knew, I was swearing off food of all kinds. I'm not going to eat this. I'm not going to eat that. Throwing away the things in my pantry, promising myself I'm going to lose weight and I'm going tolose weight NOW….
But the truth was … I had no idea how to actually lose weight and keep it off.
I had lost weight before but it was the same 10-15 pounds over and over.  I never really got results.
Eating and weighing yourself and weighing yourself and eating. It's like this vicious cycle that never ends.
It truly did not matter what I tried.  The less I ate the less weight  I lost and the more I did not care the more weight  I gained.   I didn't really understand. Neither dieting or not dieting were ever giving me a result. No matter how many times a week I weighed myself, no matter how many times I weighed my food, no matter how many times I portion controlled, no matter how many diets I followed.
I never got results.
But starting at that bag of empty chips, I was at this place in my life where I just wanted to love myself again.
Yeah, sure,  I wanted to look amazingly hot so others would be jealous at the same time, but I just wanted to feel good in my own skin and stop avoiding looking at the mirror. Have you ever felt this way? Have you ever tried everything possible and not seen the result that you've wanted?
3 Tips on How to love yourself and be confident in your body, and how to end this vicious cycle
1. Stop Weighing yourself.  PERIOD.
I know that seems really funny, but if you're a woman reading this article and I suspect that you are, when we weigh ourselves, we're not actually just weighing ourselves or weighing our period. We are weighing our water weight. We're weighing our bodies in a moon cycle. Now hear me out. Women know that we cycle every 28 days. What else  cycles, every 28 days?  THE MOON.  And every 6 months we change the eclipse cycles. So the truth is, is that as a woman, you are very much like Mother Earth.
Stay with me here.  I know you're like, okay, this woman is very strange. What is she talking about? But if you learned how to weigh yourself efficiently, you'd see really good results. So how I teach people to weigh themselves is on the same day of the week, at the same time of day in the same circumstances. Meaning  this would look like: weighing myself every Friday morning at 6:03 a.m. after pee and poop in my birthday suit.  While noting any weird things that happened. Like I didn't get enough sleep last night. The moon is full. The moon is at a crescent phase. The moon is new. There's a solar eclipse. We're in winter, we're in fall. We're in spring. And I'm going to note these little pieces, including my period (if that still exists right now) because these pieces shed light into weight. See, women don't lose weight like men do where it just goes down, down, down, down, down.
Women lose weight more like a heart monitor graft instead of the consistent downslide, which is why women get frustrated. What we have to do is learn how to weigh based on the moon cycle.
2. Stop portion controlling and meal prepping.
When you are in a big life change, and on a cycle of mood swings, or going through a new adjustment meal prepping will NOT save you.   Meal prep, portion control, grocery shopping for a week is literally a way to set yourself up for failure. All you're doing is putting more stress hormones in your body,  which then adds more stress to your food, more stress around eating, more stress to your day, which inevitably spikes up that weight and makes your food taste absolutely awful. So stopping meal planning.
3. Stop shaming and guilting yourself.
The biggest piece that keeps people very stuck in their life is the shame and guilt that they have around food. The shame and guilt that they have around eating. If we could make a donut, just a donut and an apple  just an apple.  Then there's no good, there's no bad. It's just food: calories, carbohydrates, protein and fat. And when we can make all food, just food. Food no longer controls us. And the weight can fly off of us as easily as we throw that bra across the room, as we slink into our beds and get comfy cozy for a long night's sleep.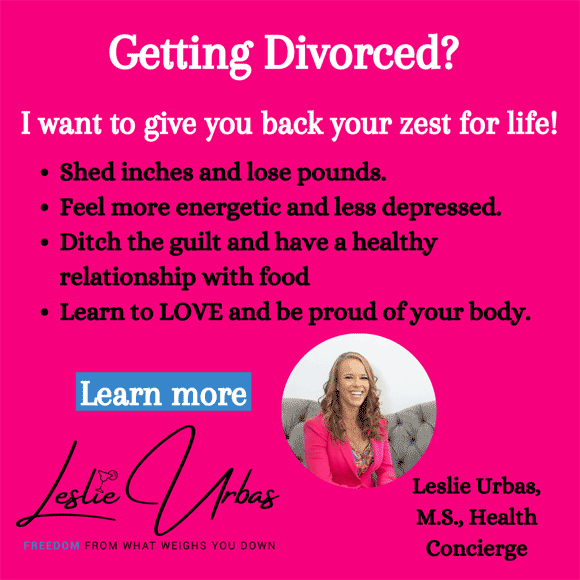 So to really love yourself and feel confident in your body, and to free yourself from the things that are blocking you, isn't it time to  end  constantly weighing yourself, constantly portion controlling, constantly calorie counting, constantly doing all of these things that only cause shame, guilt and obsession? What I'm saying is, stop doing all things.  As we stop these things we truly free ourselves from our weight prison … and weight falls off as fast as you slip on those comfy clothes after a long day.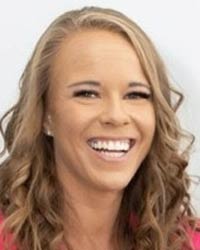 Leslie Urbas is a Registered Dietitian and Personal Trainer. She is originally from St. Louis Missouri where she received her Bachelors in Nutrition and Dietetics from Fontbonne University. After her Bachelors, she finished her internship at St. Louis University majoring in Sports Nutrition. Immediately after college, she joined the United States Navy as a Dietitian. She served 3 years active duty and 6 years in the Reserves. During her time in the Navy, she received her Master's in Science and Nutrition from the University of North Florida. She now runs LeslieUrbas.com, her health, wellness and fitness company and brand designed to help people lose weight, get fit, have a better relationship with food, and live a happy, healthy life. Learn more: LeslieUrbas.com.
Share