The impact of divorce or separation can be especially hard on children—but there's a lot you can do in how to help your child deal with divorce. If you're a parent going through a divorce, try to remember that your child needs YOU more than ever.
Signs your child is struggling during your divorce
How do you know when your child is struggling?
Younger children may regress to behaviors they had previously outgrown, such as wetting the bed, wanting a pacifier, or throwing tantrums. You also might notice that they seem more anxious or upset when separated from you.
Older children might experience a range of emotions, such as anger, guilt, or even relief that their parents are separating. They become more aggressive when angry. They may experience symptoms of depression or anxiety. In fact, mental health struggles are common among children of divorce. Keep an eye out for if they begin to withdraw or isolate from others.
Here are some other common behaviors or symptoms that can occur in a child trying to deal with divorce:
Academic or behavioral problems
Mood swings
Less socializing with friends
Less cooperation with everyday tasks
Decreased self-esteem
Increased irrational fears
Lack of interest in communication
How to react when your child is struggling during your divorce
First and foremost, parents need to put their child first. That means providing safety, consistency, and stability. 
Safety
Let your child know that they are safe. Tell them that exactly! Let them hear those words "you are safe" directly from you.
Consistency
Provide routines. Children love feeling in control and knowing what to expect. So set a bedtime and stick to it.Eat breakfast or dinner together. Routines provide a rhythm and let kids know there are things they can count on.
Stability
Create an environment that is nurturing and supportive.
1. Create a home life that is judgement-free.
2. Be available to listen and talk.
3. Encourage your child to share their feelings — positive or negative — and talk about those thoughts and feelings. Talk about the changes in their lives.
4. Validate and accept their feelings.
5. Provide the best and most appropriate support and services. You may need to seek out the very best trauma-informed therapists in your area.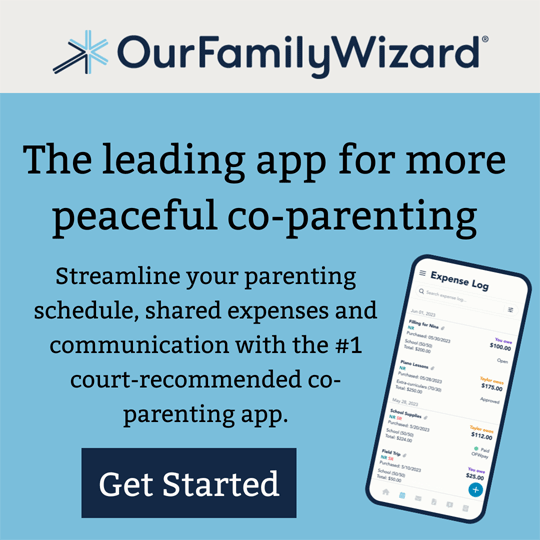 The children's bill of rights in divorce
Robert Emery, PhD, developed a list detailing how a child deserves to be treated when their parents get a divorce. They should be shielded from their parents' conflict and emotions, and should be given space to love each parent. They should be able to express their feelings in a supportive environment. Any changes to their lives should be communicated well in advance so they can mentally and emotionally prepare.
Read the whole Bill of Rights at the Academy of Professional Family Mediators.
The 3 C's of Co-Parenting 
Safety, consistency, and stability will help your child cope and even thrive during a divorce. But your interactions with your child don't tell the whole story—your interactions with your co-parent are crucial, too.
To minimize the traumatic effects of a contentious divorce on your child, try to communicate, cooperate, and compromise with your co-parent.
Communicate
Co-parents need to be aware of the way they communicate and interact with each other. Any adult conflict and arguments need to be handled far away from the kids. And never use the kids as messengers or go-betweens, especially when you're feuding.
Cooperate
Act as a team – work together with kindness and respect.
Compromise
Put aside your resentment, anger, and frustration, and make decisions that put your child first.
Read more: How to Communicate, Cooperate, and Compromise as a Co-Parent
What to do when your co-parent isn't following the 3 C's
Control your own responses
Most of all, keep in mind: You can't control your co-parent, but you can control your thoughts, behaviors, and reactions.
So when your co-parent is not following the 3 C's, the most important—but also hardest—thing to do is let go of what you can't control. Instead of trying to control it, accept it.
As Victor Frankl, a renowned psychiatrist and psychotherapist said, "Forces beyond your control can take away everything you possess except one thing, your freedom to choose how you will respond to the situation."
To gain a sense of stability, be intentional and mindful. Remember that your thoughts and feelings form your beliefs, and your beliefs inform your actions. So check in with yourself and do some self-editing.
Put your energy where it counts
Keep track of what is truly important: What does your child really need? Focus your energy there.
To make this easier, manage your own expectations. If you are constantly disappointed, it's difficult to conserve emotional energy. If your expectations are realistic, then you have more emotional and mental bandwidth to devote to helping your child deal with divorce.
Still, you can't limit all emotions—so it's important to learn how to manage different feelings. In other words, build up your coping skills. Seeing a therapist can help tremendously during this difficult time, and they should be able to recommend books, workbooks, and classes that can provide supplemental guidance and support.
Set an example for your child
Be person you want your child to be. Children are always watching our every move. The best way to lead and to teach is by example. So be kind, respectful, and thoughtful—and let your children see you acting this way, even in a co-parenting context.
Effective and productive co-parenting doesn't happen by chance. It's deliberate and intentional, based on making conscious decisions that align with your actions and goals. A little bit goes a long way.
Cultivate love, kindness, respect, and positivity
You can't change your co-parent and you can't control the whole situation, but you can choose your outlook. A positive, kind outlook will keep the focus on you and your child. It will also help protect your child from exposure to adversity.
The beauty of helping your child deal with divorce
Research has shown that divorce is an adverse childhood experience, or an ACE, a type of childhood trauma. ACEs have a strong correlation to negative health outcomes throughout the child's adulthood.
But there's good news—you can soften that blow by helping your child deal with divorce.
All childhood experiences matter, not just the bad ones. So in the last few years, researchers have started to examine the impacts of positive childhood experiences (PCEs).
In 2019, a team of Johns Hopkins researchers that found that even if a child experiences multiple types of adversity, if that child also has a lot of PCEs, then the child is less likely to suffer the negative health consequences of ACEs.
The suggestions in this article can help. The Johns Hopkins Study also identified these PCEs:
Being able to talk about their feelings with family members
Feeling supported by their family in difficult times
Participating in community traditions
Feeling as though they belong in high school
Feeling supported by friends
Feeling like at least two non-parent adults truly care
Feeling safe and protected by adults at home
What matters most in helping your child deal with divorce
In the end, what's most important is for your children is for them to know that you love them and you'll always be there for them.
Elle Barr  is an experienced family law attorney with a deep commitment to serving children and families. She has experience representing clients in all family law matters, with an emphasis on serving as a court-appointed Guardian ad Litem (GAL) in New Jersey and Pennsylvania. 
She also serves as the Judicial Education Coordinator for OurFamilyWizard. In this role, she educates judges, lawyers, and other family law professionals on the online tools that are used to reduce conflict and increase accountability in high-conflict co-parenting situations. 
Share