There is no bigger fan of Sex and The City than Jackie P. I have seen every episode at least five times, I organized girl's nights when both movies premiered, my comforter is still Calvin Klein Bamboo Shoots (same one as Carrie in her old apartment,) and at one point, the show's opening song was my ring tone.
But not only did I laugh and cry and thoroughly enjoy the show, I've come to realize something else. Candace Bushnell via Carrie Bradshaw has been a huge influence on me, and an inspiration to my writing over the past few years.
It sounds kind of funny to say that a fictional character is my inspiration, but I honestly sometimes feel like I am a real life Carrie Bradshaw, 10 years later, divorced with kids, living in the suburbs and writing a newspaper column. Granted, I lack the body and the fashion, and Carrie would never, ever, ever, ever move to the burbs. But, what I do have are strong girl friendships that are reminiscent of Carrie's bonds with Charlotte, Miranda and Samantha and most notably, the same kind of guy drama Carrie had, which I write about for tens of thousands of readers a day.
Here is a fundamental difference between Jackie Pilossoph and Carrie B., though. Carrie wrote about her dating experiences, her boyfriends, and men she loved on every single show. What's funny is, she never seemed to have any problems with any of the men she wrote about getting upset about it, calling her and saying, "People who know us know you're talking about me!" or "I can't believe you are such a hypocrite! I know the real you," or "You're making me look like a real jerk."
Now, maybe Carrie did have some problems, but the show never chose to reveal them by creating a storyline with that issue. But let's be honest, Carrie isn't real, so it was irrelevant.
Here is my point. I'm not a fictional character and while I never mention any names of the men I write about, and I try to keep all my stories anonymous so that no one gets embarrassed or hurt, I could see how the men in my life (or who were previously in my life) are less than thrilled about "Divorced Girl Smiling."
Let's start with my ex-husband. If the shoe were flipped and HE had a blog about divorce—with the name "smiling" attached to it, I would read it every day, just to make sure I wasn't being spotlighted. I might be angry, and I would be a little uneasy. If I was an ex-boyfriend, I'd feel the same way, only to a lesser extreme. And, quite honestly, if I was a single guy, I'm not so sure I'd want to get involved with me, or even want to take me out on a date, for fear of something I said or did would end up on "Divorced Girl Smiling." I get it.
So, I want to make something very clear to anyone who has ever been involved with me—whether it be casual dates, my ex husband, and notably, my ex-boyfriend of six years. Here is how I feel:
I write from my heart. It is the biggest factor in what has made me successful and what is truly cathartic and meaningful in my strong desire to help others—which is my number one motivating factor. That really is the truth.
Now, are there other motivators to work hard at keeping Divorced Girl Smiling a popular blog? Sure. Divorced Girl Smiling is now a business and a source of income/financial support for my family and me. Next, as it has always been, writing is a great source of comfort and therapy to me, and if I have an issue, I get it on paper and suddenly the problem becomes manageable and more solvable. Writing keeps me sane. So, my blog is for me, too.
But truly, my biggest inspiration is that I have created a tool I truly believe is quite honestly, changing lives. This is evident not only in my readership numbers, but through countless emails and comments from readers thanking me every day. It is what keeps me motivated, energized, fresh and driven to put out honest, vulnerable posts that tell true life stories-not fairytales.
To give advice purely based on theory would never work. No one would read it because it isn't human and preaching doesn't work. No one expects therapy from me, but rather honesty, vulnerability and the personal stories I live every day that they can relate to and learn from. And really, isn't that what Carrie Bradshaw was doing too?
So, to all my guys who aren't thrilled by my profession, please remember this. When I post a blog and you're reading it–wide-eyed because there's some part of it that is clearly based on you or us, I am telling you that from the bottom of my heart, my goal is not to embarrass you, hurt you, or make you look foolish or bad in any way. (And by the way, I completely change details so the blog is more anonymous.) My goal is always to: entertain, inspire, and offer much needed advice to those suffering in divorce or in any relationship. In fact, to be perfectly honest, I owe all of you big hugs. Without you, there wouldn't be any stories, and without stories, there would be no "Divorced Girl Smiling."
Lastly, to my ex-boyfriend, who inspired this blog post, for six years, you were a trusting, loyal friend (where do you think I got my material for that trust and loyalty blog?) Anyone who knows us already knows that, so there isn't anything on this blog that would insinuate otherwise, now is there?
The bottom line is, "Divorced Girl Smiling" isn't about the men in my life—their flaws and the reasons we're not together anymore, but rather the relationships I had with them, what I learned and the gifts I took away. It's my "Sex and the City."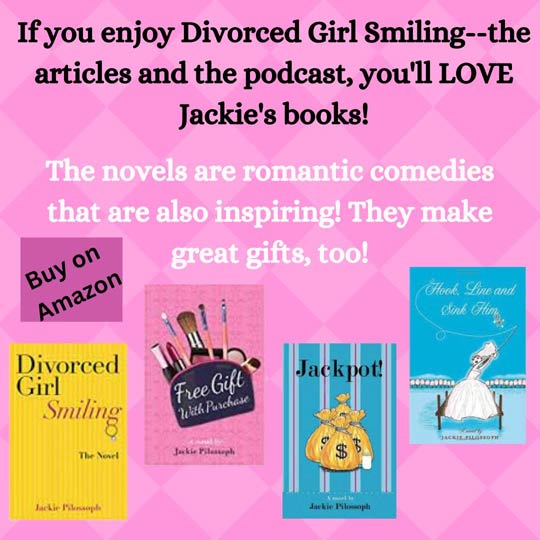 Share