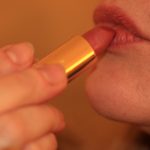 In this week's "Love Essentially" column, published yesterday in Sun-Times Media Local, I wrote about an experiment I did that involved lipstick. The results were astounding, and I think they make a strong statement that could translate into some really good dating advice.
The Lipstick Experiment Boosts Self-Confidence by Jackie Pilossoph
The idea for this week's column began when I was buying a pair of earrings in Bloomingdales. The cheerful woman who rang me up looked absolutely beautiful. Not fake, made up, skinny model beautiful, but cheerful, happy, healthy pretty. She had these bright pink lips that lit up her face and enhanced her smile.
That's when it hit me. A small item that doesn't cost very much money and that takes three seconds to apply can make a huge impact on a woman's physical appearance.
Never much of a lipstick gal in the past, I dashed straight to the makeup counter, began trying on colors, and 12 minutes later walked out the door wearing Bobbie Brown's "Berry Punch," and carrying my new lipstick in a small bag.
This began "The lipstick Experiment," where I decided to wear my new lipstick religiously for 10 days to see if and how it would make a difference in my life. I wore the lipstick everywhere I went, with the exception of the gym. I wore it even if I had on no other makeup, and even if my hair was in a ponytail and I had on old jeans and sneakers.
The results of this experiment were so much more dramatic than I ever expected! Here are some of the things that happened to me during the 10 days:
1. A woman at the grocery store stopped me and told me I had beautiful eyes. I was not wearing any eye makeup.
2. A friend of mine who I ran into at my kids' school asked me what brand and color lipstick I was wearing. She then pulled out her iPad and typed in the information.
3. One morning, I was getting some work done at a Starbucks, and realized I forgot to put on the lipstick. I went to the bathroom and applied it, came back to my seat, and the guy sitting next to me did a very obvious double take.
4. I was then walking out of that same Starbucks and a different guy, (who looked a lot younger than me) was walking to his car and kept turning around and smiling at me. I swear I'm not making this up. Click here to read the rest of the article in Sun-Times Media local. Wait till you #7! Plus, lipstick tips from a professional makeup artist!