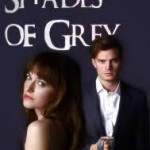 I just watched the trailer for the 50 Shades of Grey movie, set to be released in February of 2015. Aside from the fact that I think it's ridiculous that the trailer came out 7 months before the movie will actually be in theaters, I have to say, I thought the trailer was well done.
This is coming from someone who could not stand the book, and suffered through it because as I turned the pages, I kept waiting for it to wow me, based on it's love affair with every women over 40 that I knew. Still, I am looking forward to seeing the movie and here's why.
I am 100% sure the screenplay will be written better than the book. I mean, how much worse could the writing get? Sorry E.L. James, I'm not trying to be disrespectful. I admire the fact that you made millions from an e-book you posted on a whim. Your genius concept sent women all over the world into a wild and crazed infatuation and that is remarkable. But, your writing was just awful. Painful to get through. No offense. And actually, I am sure there are people out there who might say the same thing about the four novels I have published. So, I don't mean to be rude, just honest. But regarding the film, I am confident that the writers hired by Focus Features and the other producers are top-notch, and will turn your outstanding concept into a memorable film.
First, let me say what I actually liked about 50 Shades of Grey. Again, the concept. The story of an innocent young girl meeting a wealthy, seemingly perfect, gorgeous man, and embarking on a Cinderella Prince Charming kind of relationship, only to find the guy is out there—I mean really out there–with his dark, deviant sexual expectations. The concept was fresh, exciting and very appealing. Then I read the actual book.
Here are my issues with 50 Shades of Grey, aside from the fact that it read like the journal of a fifth grader (minus the X-rated content).
Christian Grey got to be unlikeable. Like every other woman on the planet, I developed a huge crush on Grey in the first 50 pages of the book. He really was Prince Charming. But, even taking away all of his freaky sex games, as the book progressed, he got to be very controlling and psychotic. When Ana went to visit her mother and he was upset, I wanted to shake her and say, "Please end it with this loser right this minute." Any guy who gets upset with his girlfriend for visiting her mother is A. psychotic, and B., clueless about love, trust and loyalty.
The book sent a bad message. 50 Shades of Grey reminded me a lot of the 1986 movie, 9 ½ Weeks, which I absolutely loved and still do. Here's the difference between the two. At the end of 9 ½ Weeks, Kim Basinger, who had been a newly divorced, vulnerable woman, who had this crazy love affair with the same type of guy as Christian Grey, realizes that what they have is not love, and that he isn't the type of person she wants to be with. She feels she deserves more. Mickey Rourke even tries to open up and start over, but it's too late. Basinger's character is strong and confident. It's tangible evidence of her emotional growth. She looks back on the relationship as something that she's happy she had, yet moving forward in her new, post-divorce life, she isn't going to compromise her values. In 50 Shades of Grey, however, it almost seems as if this behavior is acceptable and normal. I think the book sends the message (which is scary) to women that even if a guy behaves this way, he could be a really nice, "normal" guy. It kind of makes me sick. Had Ana broken up with him for good, and just said, "You know, I'm glad I got to know you, but all that 'stuff' we did just isn't normal and healthy, so I'm moving on," I'd probably have a completely different attitude for the book. It just made me feel like E.L. James might have caused women to lower their standards and accept substandard behavior because passion matters more than morals.
Don't get me wrong. I love sex. I love exciting, passionate sex. But ask yourself if you'd like your children to have sex the Christian Grey way when they grow up. I know I don't.
My last hope for the 50 Shades of Grey movie: I sure hope they change the ending. Remember The Firm? That's an example where producers and writers went with a different ending and it was so much better.
What did you think of 50 Shades of Grey, the book? the trailer?  and are you looking forward to the movie?