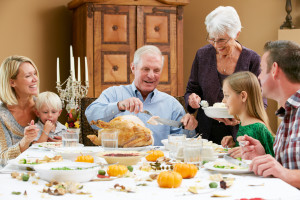 In my "Love Essentially" column, published yesterday in Sun-Times Media local papers, I give relationship advice for the holidays that involves minimizing in-law drama. Not only is this something you need to read if you feel you are constantly on thin ice with your in laws, but it will make your holidays so much smoother and more enjoyable!
Navigating the Holidays and Your In-Laws by Jackie Pilossoph
There is so much to be thankful for on Thanksgiving – good health, loved ones, friends, a nice home and delicious food. But there's one thing that many men and women don't particularly give thanks for on Thanksgiving Day: their in-laws at the dinner table!
I might be wrong, maybe you adore the woman who bore your husband or the man who still calls your wife his baby girl. But for many, holiday celebrations – including Thanksgiving – can cause tension and stress, especially in a marriage where the wife and her mother in-law just don't click.
Dr. Deanna Brann, Ph.D, is a licensed clinical psychotherapist and author of the book "Reluctantly Related: Secrets To Getting Along with Your Mother-in-Law or Daughter-in-Law." I asked Brann for some in-law tips that could help make the holidays smooth, happy and drama free!
1. Establish ground rules in advance: If you are going to your in-laws house for Thanksgiving, agree on a time your family is going to leave. Or, take two cars and let your spouse enjoy his or her family without feeling rushed, while you go home when you'd prefer.
2. Be a team player: If Thanksgiving dinner is at your home, include your mother-in-law in some of the preparation so she can feel like she's a part of it. Ask her to bring an appetizer or help you set the table or just ask, "Would you sit and talk with me while I make the salad?" In other words, make her feel important and wanted.
3. Don't take things personally: Women have a tendency to do this. Add the stress of the holidays and you could get yourself all worked up over an innocent comment that was not intentionally meant to hurt you.
4. Laugh!: We all have a Norman Rockwell painting in our heads when it comes to the holidays. We want everything to be perfect. Since that so rarely happens, we set ourselves up for disappointment, so when one thing goes wrong, the drama begins. The best philosophy is to laugh! So what if your daughter-in-law cooked the turkey a little too long or if your mother-in-law doesn't realize that margarine isn't healthy, who cares? It's only one day!
Click here to read the rest of the article, including MY tips, published yesterday in Sun-times Media suburban papers!