Meet Missy Jerfita and Meredith Pierson of Jerfita Pierson Team at Compass, Chicago and the North Shore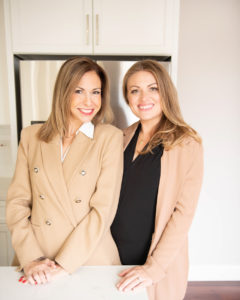 I am so excited and happy to introduce real estate agents, Missy Jerfita and Meredith Pierson of Jerfita Pierson Team to all of you! I have known Missy Jerfita since I moved to Glenview 20 years ago. Missy was my real estate agent during the time I was going through my divorce, and I can say firsthand how wonderful she was to work with.
Over the years, I have watched her business blossom, first singlehandedly, and now, her merger with Meredith Pierson, who is a wonderful addition to the excellence that Missy has always provided! Missy and Meredith have a well-deserved esteemed reputation for a few things. First, they are both great negotiators. That is so important, especially if you are going through a divorce and every dollar counts. Next, they have such integrity. I have gotten to know Missy as a community member and friend over the past several years and I see her hard work, her honesty, and the no-nonsense demeanor she exhibits. Missy and Meredith don't take short cuts. If you are their client, you will be treated like a VIP. Countless people who have worked with Missy who I know agree with me.
Meredith and Missy's best qualities are energy, positivity and passion for real estate.  After all this time, Missy still gets excited about every listing and every client she gets. The team's enthusiasm is wonderful, and if you're going through a divorce, it's refreshing, not to mention much needed.
Missy and Meredith have decided to partner with Divorced Girl Smiling because over the years, Missy has worked with dozens of divorcing couples, as well as newly single men and women. Meredith is a divorced mom, so she understands firsthand the pain and stress of a divorce. They understand both the dynamics and the challenges that go with selling a house during a divorce and/or buying a new home as a single parent. Jerfita Pierson team is the best, and I could not be more proud and happy to be partnering with them!
Sincerely,
Jackie Pilossoph
Editor-in-chief, Divorced Girl Smiling
Missy's Bio:
Recently featured on the cover of Chicago Agent Magazine, a radio spot on WGN Morning Radio, a ground-breaking over $160M in the past 3 years, a number of commercials, industrial and print ads, you may recognize Missy Jerfita. These days you're more likely to find her negotiating top dollar for her sellers or uncovering homes not on the market for her buyers.
Missy's results speak volumes. Consistently from 2005-2022, Missy has been the a top producing agent on the North Shore of Chicago. Missy sold over 10 million dollars her First full year in real estate, approximately 15 homes. In order to provide her clients with another level of service, Missy developed a team of the "Best of the Best" agents. She has an assistant and three "exclusive buyers agents." These agents micro-manage Missy's buyers to uncover their perfect home location and best price! She has received the prestigious Chairman's Award, Best Team Platinum Award, "Best of the Best" Award and was recognized as a "40 Under 40"… an agent to watch! Learn more: https://thekeytohomes.com/agents/missy-jerfita
Meredith's Bio:
Meredith is a Chicago native, born and raised in the real estate business. In fact, her family has over 30 years' experience of selling and starting multiple real estate companies in the Chicagoland area. Real Estate has always been a passion of Meredith's, and every day she works tirelessly to support all her clients' needs. Her philosophy has always been client first. Meredith has consistently ranked in the top 1-5% of all Chicago Brokers. Furthermore, in her first year of business Meredith was awarded rookie of the year at her brokerage, selling more in her first year of business than any other agent at the company.
You may recognize Meredith from multiple publication features including Chicago Magazine Top Real Estate Agents, Chicago Realtors Top Producers, and Chicago Association of Realtors Industry Rookie of the Year Nomination. In just five years Meredith helped over 120 families and sold nearly $70 million in Real Estate. What sets Meredith apart from the rest? HER DRIVE. Meredith works diligently to make your property shine, and she will not give up until her buyers have found their dream home. Not only does she have a passion for Real Estate, but Meredith has a strong background in marketing and project management. She entered the real estate business with a Business degree from Purdue University and over 5 years of experience in marketing consulting. Marketing plays a large role in selling real estate; Meredith excels in best marketing practices and understands the consumer mindset. Real Estate is continually progressing, and Meredith knows how to navigate our digital world.
Meredith is thrilled to expand her business to the North Shore where she now resides with her family. By expanding her reach she is confident she can provide the best level of service to her clients. Her clients will benefit from truly the "Best of the Best" teams in both Chicago and the North Shore. Learn more: https://thekeytohomes.com/agents/meridith-pierson
Connect with Jerfita Pierson Team on Social Media:
The DGS Podcast featuring Missy and Meredith:
Testimonials:
1. We contacted Missy 18 months in advance of selling the house and Missy made suggestions to refresh the interior. Missy also put us in contact with Epic Interiors who helped us select lighting, paint colors, door hardware, tile colors, and new kitchen cabinets. We listed our home and we received an excellent offer in 3 days. Missy and her assistant Sharon are extremely professional, communicate well, and are easy to work with. They helped us receive an excellent offer and exceeded our expectations. Missy also recommended movers for our interstate move. The Jerfita team went the "extra mile" to ensure the sale and our move went smoothly. –The Prchals
2. Missy and her team are simply the best! She Is extremely well-networked in the area and quickly gets the right traffic in your home when selling and identifies appropriate options when buying. Knowledgeable, pleasant and fast — the perfect combination.  -Scott Graf
3. Absolutely the best agent you can find! Thorough, energetic, knowledgeable, professional, and loaded with integrity. You won't find anyone better. Helped us sell a home and buy a home during the pandemic.
4. Missy is amazing. Her market knowledge and customer service are unsurpassed. Missy had potential buyers looking at our house before it went on the market and the house was under contract within 24 hours of the active listing (at almost asking price)! She makes selling your house an absolute dream come true and you cannot ask for a more honest agent.
5. Missy Jerfita and her team go over and above to get prospective buyers into your home through traditional ways and innovative electronic campaigns. We met with her as soon as we decided to relocate back to Austin and she optimized our market strategy to coordinate with our moves, by launching a coming soon and generating interest before our home was even listed. The team actively solicits feedback so sellers can react to changes and opinions quickly. While we were out of town the team checked-in on the house regularly and ensured the house was ready for every showing. Missy understands the market, she is both honest and realistic throughout the process. Our home sold for Full Price with more than 1 offer during the pandemic and Missy guided us through the negotiation process ensuring we accepted the right offer.
6. Missy and her team went all out to sell our home in a challenging market. Our house was staged beautifully and the marketing materials were topnotch. Her advice in terms of timing open houses, etc was great. We were also very impressed with her team, especially with Sharon. No matter the time of day, or the craziness of the question, she responded promptly. Once the house was sold, Missy and her team kept us informed as to next steps, how the buyer's financing was coming, and more. Highly recommend!