Meet Tara Lubin, Realtor and Global Real Estate Advisor for Jameson Sotheby's International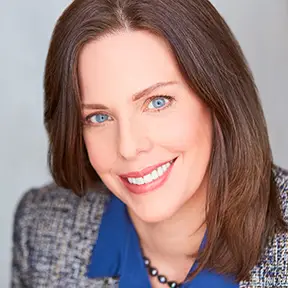 Living in Evanston for  three years, with a specific focus on the southeast area, I have become intimately acquainted with this vibrant community. Additionally, my long-standing residence in Wilmette for over two decades has granted me a wealth of knowledge about the North Shore region. In this highly competitive real estate market, having the guidance of an experienced real estate expert becomes paramount for making well-informed decisions and navigating the intricacies of property transactions.
In my journey as a real estate professional, I have not only acquired an in-depth understanding of Evanston and the North Shore but have also gained invaluable experience in assisting various individuals and couples through significant life transitions. These include helping couples navigate the process of transitioning into separate households during a divorce. I have supported renters and buyers as they move to into the North Shore Chicago area for the first time, and aided down sizers in selling their current homes to either relocate out of the area or transition into more suitable, smaller residences. Such diverse experiences have equipped me to provide expert guidance and support to my clients throughout their unique real estate journeys.
I am totally focused on my clients.
The two most important words I know as a REALTOR, are "YOU" AND "YOUR".  I am absorbed with my client's happiness, your present and future, your ability to fit into a home that literally supports you as a person, partner, and healthy family member.  My job and joy is letting you focus on the present and live in the moment so you can become who you really are meant to be, and not be distracted and bogged down attempting to overcome a less than ideal living situation.
Because you are my business:
My commitment to transparency means I take the time to explain my robust marketing strategy and share valuable insights, ensuring you're well-informed throughout the process. With me, you'll have the confidence to make well-thought-out decisions with ease.
Diligence is my middle name! I meticulously do my homework, employ marketing expertise, and craft a professional staging and prep design to present your home in its best light. Your property will truly shine, leaving a lasting impression on potential buyers.
What truly sets me apart is my unwavering dedication to your success. I care deeply about achieving the best possible outcome for you. With unwavering tenacity, I'll work tirelessly to ensure you're not only satisfied but delighted with the results. It is an absolute honor to assist you in this important endeavor.
Should your current living situation be hindering your personal growth and self-expression, don't hesitate to get in touch with ME today. Allow me the privilege of serving you and helping you find the perfect solution –  Let's embark on this remarkable real estate journey together and create something truly extraordinary! I eagerly await your call!
Tara Lubin is a Member of North Shore-Barrington Association of REALTORS®, and a Graduate of Saint Mary's College, Notre Dame, Indiana. She holds a BA. i Economics / Studio Art
Connect with Tara on Social Media:
Testimonials:
You won't find an agent who will work harder for you than Tara. She knows the real estate market, is a strong negotiator, and extremely personable and supportive throughout the home-buying process! I'm convinced you just won't find a better real estate agent in the Chicagoland area –– Tara's knowledge, work ethic and affable nature will help you find the perfect house and she will intelligently guide and advice you with every aspect of the home-buying experience! I would give more than five stars if I could. –
matthewmiller919
Tara was awesome to work with. She's patient, responsive, and clearly knows the area well. I was super happy with the overall experience, and she went above and beyond to check in throughout the process. Most impressively, she treats every client as a long-term neighbor. Our conversations never felt "transactional", and I always felt she had my best interests in mind.
micahbregman22
Tara did an amazing job getting our house sold. She worked with my wife to declutter the house, which took weeks. She recommended an amazing stager, who was able to add a few inexpensive yet tasteful items to make the house more appealing. Tara gave us very good advice concerning the price at which to list the house, and once COVID hit, she was very quick to adapt to virtual showings and new market realities. When we received multiple low initial offers, she did not pressure us to accept one but worked with us to achieve our desired sale price. Once we were under contract, she kept the deal together during a difficult inspection and attorney review period. Overall, I highly recommend retaining Tara to sell your home.
U.S
I am an attorney and sent a very good client her way.Tara Lubin is a true professional. She has a positive demeanor and carries herself with confidence. Tara is kind and interesting, she is someone you want to be friends with and can trust. Tara's familiarity with the northern suburbs is excellent.Tara helped my client quickly and effortlessly find new housing. My client found himself in a situation needing to immediately relocate with his young child. Tara toured a number of residences within the appropriate school boundaries. Tara made herself available to answer questions and to locate residences available on an immediate basis. My client relayed how grateful he was for me introducing him to Tara and how quickly she helped him. I would never hesitate to send my friends and clients her way.
candace401
Tara is not like any other agent I've encountered. She told me many of her clients will fall in love with one aspect of a home like a den or the kitchen. To her that's a crush that you can get over over time. She looks for homes that people can love for a lifetime. She makes sure your home fits you, physically and emotionally and has the ability to help you grow. My wife and I recommend her enormously.
Jim A.
Tara Lubin is at the top of the game when it comes to her craft as a real estate agent. She's incredibly knowledgeable and personable which makes the entire buying/selling process go smoothly. Highly recommend Tara if you're looking for an agent that will take the headaches out of the entire process….she's the best!
Anthony G.
Can't say enough about how great Tara is to have on your side. She spent over a year patiently helping me find the perfect property and guiding me through the ups and downs of buying my first home. I knew I could count on her every step of the way, from the first few showings all the way until closing. I started out just checking out a few interesting places, knowing I was going to buy but not when or even where. She was very patient and super helpful as we narrowed down the search. It took a while and we looked at a lot of properties. My criteria continually evolved and she seamlessly adapted our search to follow suit. Once we found the right place, though, it was clear. She rocked the negotiation, making it quick and straightforward, while still getting me a great deal. Throughout the entire process, Tara remained professional, attentive and fully involved. I'd recommend her to anybody looking for a home!
kmcohen89
Tara was incredibly helpful in finding a rental property for me. She went above and beyond what was expected by researching property history details to verify listings. She is responsive, efficient, and extremely reliable. She will be my go-to realtor for the Chicagoland area in the future.
khurram kureishy
Tara definitely goes above and beyond. Her knowledge is great and she came to my home to help me look at paint colors even knowing I am not going anywhere soon. She really knows her stuff and helped me solidify a plan to make me happy here now but also be ready should the time come to leave. Thanks Tara. You are the best!
Donna M.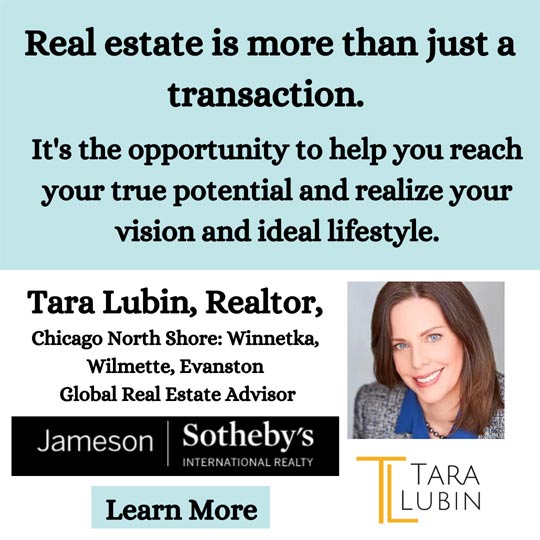 Articles by Tara