Meet Certified Life Coach and Parent Coach, Rita Morris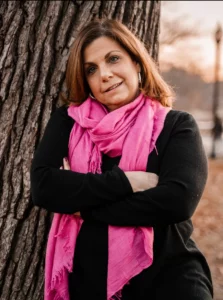 When people decide to get divorced, among their biggest concerns are the children. Are they going to be OK? Will they start acting out? Will their grades suffer? Will they end up with emotional problems? Are they going to become insecure and feel unloved? These are all valid concerns, which is where Life Coach and Parent Coach, Rita Morris can step in.
Rita, who is a mom of two, has been a therapist since 2003. After becoming a certified life coach, Rita decided to dedicate a large part of her practice to parent coaching. Rita's passion is helping divorced parents coparent in a way that will help their children thrive. Rita also has a large focus on helping parents who have kids with anxiety and ADHD.
Offering her services all over the U.S., Rita is experienced, smart, warm and extremely dedicated to her clients. I am honored to have her as a DGS partner!
Sincerely,
Jackie Pilossoph, Editor-in-chief, Divorced Girl Smiling
Check out this video of Rita!
Rita's Bio:
Rita Morris, M.A., LMHC is a Certified Life Coach, a Parenting Coach, a veteran therapist, and a mom of two. Rita, who holds a Masters degree in education and who has been a practicing psychotherapist since 2003, specializes in helping men and women during and after divorce with coparenting through strategies to ensure their children thrive. Rita also has a concentration in helping parents with kids who have ADHD and anxiety disorders. Learn more on her website.
Rita's guest appearance on the DGS Podcast:
Connect with Rita on social media: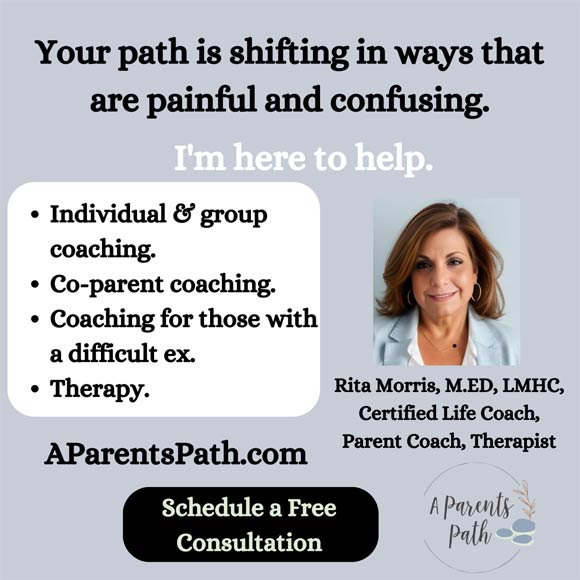 Testimonials:
"Rita is one who takes time for each and every one of her clients. Listening to fully understand the words of those speaking to her and giving guidance/suggestions and knowledge through years of education and a wide scope of experience. You and your family will be in wonderful hands as you embark on a journey with "A Parent's Path." – Erin B.
Rita's coaching has made a tremendous difference in our approach to parenting. She has replaced our anxiety with a calmer attitude and approach. The benefits have also helped to improve the climate of our home. If there is any wavering about whether or not to take on 'yet another commitment,' this is one that is truly worth your time." – Katherine R. 
Written by Rita: