Meet Maria Spears, Dating and Love Coach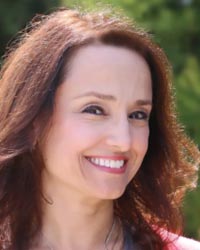 Dating again after divorce can seem really scary. Showing vulnerability, trusting someone again, and trusting yourself to choose the right people are some of the daunting and seemingly challenging aspects that can come into play.  Some people who are getting divorced haven't dated in 5 years or 10 years or 20 years or 30 years, and aren't sure if they "know how" anymore.
If you are someone who has always dreamed of meeting "the one," I am telling you, you deserve that and it is truly possible!
To help you through your dating journey, I want to introduce Dating and Love Coach, Maria Spears. I am so excited to have Maria as a DGS partner. From the minute we started talking, I felt warmth and authenticity from Maria. I quickly sensed her dedication and passion for helping divorced women (and men) not only "learn" how to date again, but to guide them to finding the love and life that truly makes them happy. I would highly recommend scheduling a complimentary consultation with Maria!   
Sincerely,
Jackie Pilossoph, Creator and Editor-in-chief, Divorced Girl Smiling
Maria's Bio:
Maria Spears, M.Ed., CPPC is a Dating and Love Coach who guides women through a powerful integrative process that is based on extensive training in human development, professional coaching, Progressive Energy Field TappingTM, neuro-linguistic programming, hypnosis, the law of attraction, and nearly 25 years of relationship and personal growth research, including coaching hundreds of women and men to overcome blocks to the love and the life they want.
​Her process is based, in part, on the steps she took to overcome divorce and heartache from a lifetime of relationships with the wrong men.  She teaches women to break free from old patterns, understand how a lack of knowledge and self-worth can lead to unhealthy relationships, and provide them with the tools to thrive in relationships and live as their authentic selves moving forward. Learn more and schedule a free consultation here.
The DGS podcast featuring, Maria:
Testimonials:
Everyone should hire you. Literally no one is untouched by heartache and rejection. We have all been affected by love or lack of love. Anyone who wants to attract love in their lives needs to start with themselves. It's like the old adage "you got to love yourself first before someone else loves you". But saying it isn't enough. You have to do the work. It's been enjoyable. – Kate in Chicago, IL
I gained my life back.  This guy had taken over my brain. I was able to reclaim that real estate again.  I could go back to all the things I'm doing without being distracted and thinking about it a lot.  I went out and saw some friends again.  Felt happier. Every part of my life benefited. I was able to see for the first time this was the best possible outcome. It wasn't a good fit anyway with him. – Anonymous
Maria goes very deep into who have you been with and be ready to disconnect from the energy of that person. Who are YOU now and what is YOUR life like in all aspects. How will a new partner fit into your whole life. Love yourself first, know yourself on a deep level and then you'll attract the most right person for who you authentically are. When you're open and ready he will show up.  – Carol Walkner, Energy Healer and Clairvoyant Medium
I recommend you to anybody who wants to get over a past heartbreak and feel content being single until they are in a place to search again, and anyone who wants to find their ideal partner, whether they are women like me who haven't been married, or divorced women who want to find their true life partner. People who are experiencing today's dating culture with a mixture of confusion and despair who want to feel better while they're looking for their right match.  It makes it easier when you can feel it's not the end of the world and you can be happy being a single person.  Then you're not approaching dating like "I hate being single I hope this next person is the one"…. – Leslie Fox, Pro EFT™ Master Practitioner, CPMP
Working with Maria has been one of the most impactful things I've ever done. She gets straight to the heart of the matter and creates a compassionate and safe space to go deep and tap through all the stuff that's holding you back. She's truly a catalyst for change and is absolutely meant for this kind of work. – Anonymous
​Follow Maria On Social Media:
Articles written by Maria Spears: