Meet Jennifer B. Brown, Mortgage Lender and Certified Divorce Lending Professional, Neighborhood Mortgage, Inc.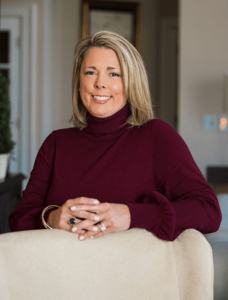 What is divorce mortgage planning? If you are going through a divorce, thinking about a divorce, or buying a home after divorce, divorce mortgage planning is critical in providing you the knowledge to make the best decisions possible when it comes to your living situation.
Jennifer Brown, Mortgage Lender and CDLP specializes in helping men and women empower themselves in determining the best financial strategies tailored to meet their needs and goals. She will collaborate with you, as well your divorce attorney, mediator and other divorce professionals so that everyone is on the same page when it comes to your post-divorce wishes and plans.
Jennifer is such a lovely person. She's energetic, smart and experienced (26 years in the industry!) and is truly passionate about  empowering you when you need it most. And, there is no additional charge for Jennifer's expertise in the divorce mortgage planning. I am so happy to have her as a DGS partner!
Sincerely,
Jackie Pilossoph, Editor-in-chief, Divorced Girl Smiling
Jennifer's Bio:
A 26 year veteran in the mortgage industry, I've originated mortgages in metro-Atlanta since 1998 and am licensed in AL, FL, GA and TN. In 2019 I became a Partner/Co-Owner of Neighborhood Mortgage, Inc. founded in 2001. I take great pride in my role as Vice President of my organization and serving my community and business partners as a trusted mortgage expert. In 2022 I was awarded the NAMB Southeast Region (25 or more employees) Mortgage Broker of the Year. Additionally Neighborhood Mortgage was named the 2022 Best of Forsyth Mortgage Lender of the Year.
As a Certified Veterans Lending Specialist I help Veterans navigate their VA Home Loan Benefit, The VA Home Loan is one of the best mortgage financing vehicles available in the United States. I highly encourage all eligible Veterans to explore this benefit and offer expert advice on obtaining the financing that best meets their needs.
Also, a Certified Divorce Lending Professional (CDLP®) and a Certified Amicable Divorce Professional (CADP), I help divorcing homeowners make more informed decisions. As a member of the ADN, and as a CADP, I partner with divorce professionals who respect your choice to divorce peacefully.
Additionally, I am a condominium lending expert, having worked as the preferred lender for many metro-Atlanta developers from 2002-2008 during the condo boom. I was selected as a preferred lender by many of Atlanta's most respected builders and developers, proudly serving more than 30 condominium communities since 2002.
Born and raised in the great state of Alabama, I relocated to Atlanta in 1997 when I began my career in the mortgage industry. My husband of 20 years and I reside in Alpharetta with our daughter and black lab, Bear Bryant Brown, Jr. In our spare time you can find us hosting or attending a tailgate, at the beach, on the golf course, at the softball fields or spending time with our large family from Kentucky to Colorado.
With access to over 20 investors and banks, I work with clients to identify the financing that best meets their needs, secure the best terms for that financing, and deliver the best customer service experience in the industry. I bring a broad range of products, Conventional, FHA, VA, USDA, Jumbo, Fixed and ARM products as well as Non-Agency portfolio products to the table. With low overhead, I have the ability to offer the most competitive loan packages available in the marketplace. Learn more on our website.
Testimonials:
Jennifer Brown's customer service is unmatched. She always provided prompt responses to questions and provided numerous options during the loan process to best suit our needs. We really appreciated Jennifer's hard work through the loan application process. – Rachel Buck
Jennifer and her team are amazing! They receive an A++ for fast, friendly customer service. They made the whole process of refinancing my loan painless and effortless. I can't recommend them enough and will definitely use Neighborhood Mortgage again! – Sherri Michaud
We had a great experience with Jennifer Brown and Neighborhood Mortgage. We had a lot of questions and she was able to address all of our concerns. We have financed 3 houses now and this was bi-far the most streamlined experience we have been through. We highly recommend Neighborhood Mortgage and will use them for all lending going forward. – Kendra Cooley
Jennifer and her team are amazing! We were able to get a great rate on our loan and are now homeowners. We couldn't be happier with choosing Neighborhood Mortgage! – Christa Bachman
I cannot say enough good things about Jennifer Brown and her team at Neighborhood Mortgage. We just completed our 3rd time working with them (two home purchases and a refi). Jennifer and her team stay in communication through every step of the process and are quick to respond to any questions. We highly recommend Neighborhood Mortgage! – Melissa Haunson
Neighborhood Mortgage came highly recommended by a friend who had used them in the past. I shopped around in spite of the recommendation and found the rates at Neighborhood Mortgage to be the most attractive. Even though the office is located in Atlanta, I was able to secure my mortgage for my new home in Florida. Jennifer and the rest of the staff were a pleasure to deal with and I am very pleased with the end result.  – Bo Laterveer
We love Neighborhood Mortgage! We've worked with Jennifer Brown and her team for all of our mortgages and refinances and every one of them has been a terrific experience. Working with them makes a complicated, stressful process so much easier. Highly, highly recommend!!!! – Andrew N.
Connect with Jennifer on Social Media: