Meet Cary Jacobson, Divorce Attorney and Founder, Jacobson Family Law, Columbia, MD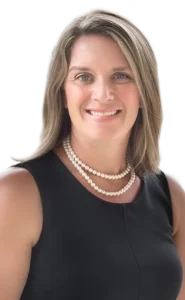 I am so pleased to welcome Divorce Attorney, Cary Jacobson as a Divorced Girl Smiling Trusted Professional! Cary founded her Columbia, Maryland based boutique divorce law firm, Jacobson Family Law in 2015. A skilled mediator and a collaboratively trained divorce attorney, Cary prides herself on finding effective resolutions to her clients' cases without going to court so that they can have the best possible divorce outcome and post-divorce life. Cary represents individuals and families and as her tagline reads, she "keeps the drama out of your divorce." Love it! Why? Because to me, someone who went through a divorce, less drama means spending less money on your divorce, getting divorced in a much more timely manner, and having such a better co-parenting relationship with your ex. Welcome, Cary! We are so happy to have you on the DGS trusted professionals team!
Sincerely,
Jackie Pilossoph, Founder, Divorced Girl Smiling
Cary's Bio:
Cary Jacobson is a trained Maryland Collaborative Divorce Attorney. She begins working with you by listening to your concerns and helping you identify your goals and interests for the divorce process and the future beyond it. Collaborative divorce is an excellent choice for many families, but it is not for everyone. Cary is skilled in a variety of dispute resolution options, and will help you identify what divorce process is best for your needs. If you decide that Collaborative divorce is right for you, Cary works with, and advocates for you throughout the process, from helping to assemble the Collaborative team to finalizing your final divorce documents.
Cary graduated from the University of Baltimore School of Law with her Juris Doctorate magna cum laude. She is admitted to practice law throughout the State of Maryland as well as within the United States District Court for the District of Maryland. Cary is a certified mediator, Best Interest Attorney, Child Advocate Attorney and Child Privilege Attorney. Prior to founding Jacobson Family Law, Cary was a senior associate at The Drazin Law Center, specializing in divorce and bankruptcy.
Cary is actively involved in the legal community, including the International Academy of Collaborative Professionals, Maryland State Bar Association Family Law and Young Lawyer Sections, Howard County Bar Association, and the Maryland Program for Mediator Excellence.  Cary is also a current board member of the Howard County Collaborative Professionals and the Women's Bar Association of Maryland of Howard County.  Since 2016, Cary has been recognized as a SuperLawyers Rising Star in Family Law; each year no more than 2.5% of the lawyers in Maryland are selected.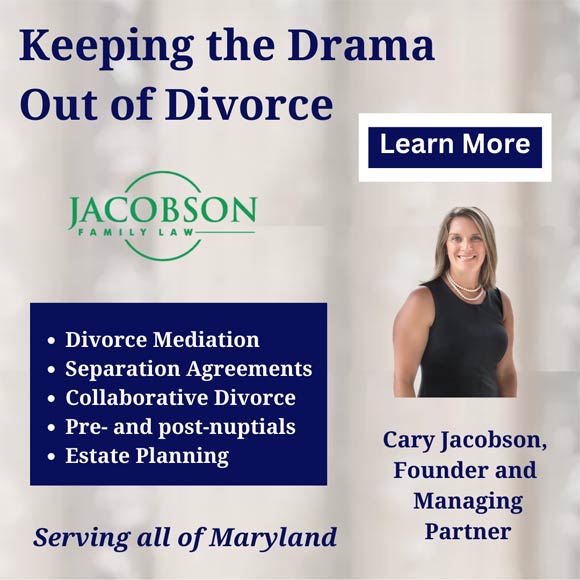 Connect with Cary on Social Media:
Testimonials:
Cary and her entire team were extremely helpful and always very responsive to my many questions and concerns throughout the divorce process. They have a way of putting your mind at ease when you feel stressed. I highly recommend her team to get you through a difficult time with their expert knowledge, professionalism and total support and understanding.
Cary is the best!! I would highly recommend her. I hired Cary to be my divorce attorney back in 2015. She was always available when I had a question, was extremely responsive to e-mails and because of her I got the best possible custody outcome while managing to stay out of court. I will be forever grateful for all of her guidance and hard work. A few years later I got re-married and asked Cary to draft our wills. She truly is a gem and I promise you won't regret hiring her to be your attorney!!
Cary and her team have been caring, efficient, and knowledgeable. Services were tailored to my needs to give me exactly the support I wanted for my amicable divorce. I even got recommendations of other professionals for financial matters, so that I could get expert help all around. Simply the best.
Jacobson Family Law provides helpful, professional, and, as advertised, drama-free resolution. My former husband and I were most pleased with Cary's high degree of empathy, lack of bias, and warmth towards both of us. We were able to draft and execute a custody agreement that best met our child's needs and allows for us to successfully and happily co-parent. Cary never pressured us to add anything to our agreement that made us feel uncomfortable, and she ensured the atmosphere surrounding a challenging situation remained nothing but peaceful. I highly recommend her and the Jacobson Family Law team.
Cary is superb at what she does. She's very knowledgeable and thorough; she's insightful and skillful with her communications. When asked, she's made great recommendations in terms of talented professionals who have helped along the way. I would highly recommend her to anyone seeking a lawyer for the collaborative divorce process
Cary and her team are amazing! Cary helped navigate me through a very challenging mediation and uncontested divorce. She was with me every step of the process. Highly professional, kind, compassionate, and has a no bs attitude. I definitely want her in my corner should you ever find yourself needing legal assistance. Thank you so much for everything ! You are amazing!
The past year has been an unexpected whirlwind of challenges working through a divorce with many twists and turns. I researched various Lawyers and am very grateful that I decided to work with Cary and her team. Cary's confidence and knowledge was reassuring, laid a solid foundation, and effectively addressed all situations that arose. Her family first & avoid unnecessary drama approach moved the case forward with ease and prevented decisions that could cause unintended adverse effects down the line. Her compassionate demeanor, balanced with candid, matter of fact direction helped make decisions more swift and easy. Cary is an effective listener, processes complex information with ease, and communicates with clarity. She and her paralegal team (Alexa) were consistently proactive, responsive, and available. Her fees are fair for the quality of service, care, and results that you will receive. Not only did my family get through the divorce case with less turmoil than what could have been expected, we completed this in a timely manner so everyone can now focus on moving forward in the next chapter in our lives. Thank you Cary and Team.
Articles by Cary: