Meet Beverly Price, Divorce Coach, Founder, Her Empowered Divorce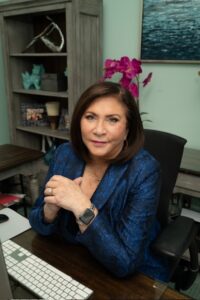 I have been interviewing guests on my podcast twice a week for almost three years. Before then, I spent 10 years interviewing people and professionals for newspaper articles and for my column, Love Essentially, which was published in the Chicago Tribune Pioneer Press. What I've learned is, you really get to know a person during the interview process. Through questions and answers and conversation, a lot is revealed about the person's experiences, intelligence, passion, and ethics.
I bring this up because when I recently interviewed Beverly Price for my podcast, I was so impressed, and I quickly knew she was a person of incredible dedication to helping people through divorce. Beverly is so smart, she's a wonderful communicator, a great listener, and is truly committed to her coaching business.
For over 30 years, Beverly has been helping people before, during and after divorce with everything from managing difficult emotions to making good financial and legal decisions during the process and to of course, becoming empowered so that they can live their best lives when the divorce is in the rearview mirror.
I am proud to announce that Beverly recently created and co-Founded The Divorce Coalition, a movement aimed to promote awareness of domestic violence, and to inspire healing and change.
I am so excited and proud to call Beverly a Divorced Girl Smiling trusted professional! Welcome, Beverly!
Sincerely,
Jackie Pilossoph, Founder, Divorced Girl Smiling
Beverly's Bio:
I am the empowering divorce coach who guides women on their journey before, during and after divorce to eliminate pain, overwhelm, sadness and anger, and create more knowledge, skill and peace than I experienced myself.
Many women struggle with their self-image and self-confidence during and after divorce. If a woman is being held back and experiencing major obstacles – personal or professional for example fears, resentment or lack of confidence – her life is stifled. There is a solution to a better divorce – personalized one-on-one guidance to navigate divorce is the answer. It's customized coaching designed for a woman's unique situation. This confidential and supportive virtual coaching is available across the US.
I help women with the following:
⚡️Set goals for your divorce
⚡️Protect themselves and critical items and manage technology
⚡️Set up new financial accounts and develop an organizational and storage system for information
⚡️Collect and learn critical financial and legal information
⚡️ Locate resources such as divorce laws in their state, podcasts, blogs, etc
⚡️Gain clarity and eliminate overwhelm
⚡️Manage and process emotions
⚡️Learn communication, conflict management, and negotiation skills
⚡️Set expectations for your divorce process, professionals and results
⚡️Prepare for and role play critical conversations
⚡️Understand the divorce process, methods and terminology
⚡️Gain referrals to other divorce professionals
⚡️Develop a draft co-parenting plan
⚡️Examine best and worst-case options
⚡️Avoid the biggest divorce mistakes
⚡️Save time, money and heartache
⚡️Develop a plan for life after divorce
Learn more at my website, Herempowereddivorce.com
My 30 years of women's divorce coaching, professional training and personal experience, has resulted in thousands of women reclaiming themselves before, during and after divorce. Their divorce doesn't have to be a death sentence, but rather a springboard to a new life.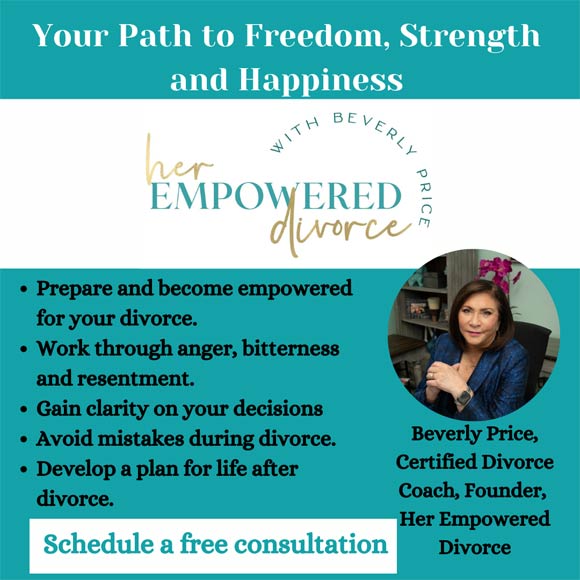 Connect with Beverly on Social Media:
Beverly on the Divorced Girl Smiling podcast:
Testimonials:
"Beverly is an extremely effective coach – warm, caring, practical and helpful. My coaching sessions with her gave me more tools to work with than the others  I've worked with.  I always look forward to our sessions and leave them energized and upbeat."
"I was really feeling lost and anxious. I couldn't sleep at night unless I passed out from exhaustion. I lost my job, in the middle of my divorce, and everything seemed hopeless. Beverly gave me hope. I got new books to read and homework to do. This gave me an educational Escape for my situation. I've had a much better understanding of how to deal with my ex and others. There have been many things that came up in discussion that proved to be very useful."
"Beverly brings a smile and a place of safety to every session she meets you where you are and wants to ensure that you feel empowered from day one. She will definitely pour into your cup and help you see who 'you' are in the beauty you offer the world. I always feel ready and equipped to take steps toward after every session. She is absolutely amazing and I'm so glad I chose her to walk along this tough journey with me."
"I was really feeling lost and anxious. I couldn't sleep at night unless I passed out from exhaustion. I lost my job, in the middle of my divorce, and everything seemed hopeless. Beverly gave me hope. I got new books to read and homework to do. This gave me an educational Escape for my situation. I've had a much better understanding of how to deal with my ex and others. There have been many things that came up in discussion that proved to be very useful."
"I feel so much better working with Beverly.  She has a way of listening to me when I speak and then coming up with a plan to assist me on my journey.  I am in the early stages of my divorce but yet I feel more empowered today than I did before."
"Beverly is helping me to creating a sense of peace and balance in my life—she does so by, again, listening to my fears and sharing her experience, strength and hope.  In doing so, she encourages me that I, too, can find the strength to heal and move forward in my life."
"I have found that divorce can be one of the most traumatic events in life.  You lose a sense of innocence and trust.  It's an emotional roller coaster tempered with a need to be level-headed in order to make necessary decisions.  Especially if children are involved, it's a process fraught with life-changing implications.  I wish that resources like Beverly were available and known to me as I was going through my divorce.  A divorce coach like Beverly can be the much needed neutral anchor to guide you through the mess of emotions and money concerns that you will face. Beverly is open and supportive, really easy to speak with; she offers practical tips and approaches to the sticky and thorny questions that will be thrust at you.  She's been there, and it shows in her realistic guidance to support you through the process.  Try her out!"
Articles by Beverly: