Let's talk about getting a mortgage after divorce. Your home is your sanctuary.  The center, where you leave in the morning and return in the evening. A place where you create memories with your family, friends, neighbors and fur babies. If you are like me, a home is not only where you feel the safest and most at ease, but it is also a source of pride in what you've accomplished.
I recently drove past my childhood home and it reminded me that my best friend's home was our outfield fence.  If you hit the ball over her house, it was a home run.  I'm pretty sure we never broke a window, but don't put me on the stand.  I was completely overcome by emotion.  Home evokes the strongest of feelings and memories.
When working with divorcing clients, the marital home is often difficult to part with, for all of the above reasons and more.  When you, or children, are so emotionally invested in something it's hard to let it go.  As a Certified Divorce Lending Professional and Certified Amicable Divorce Professional it is my goal to help you achieve your post-decree housing goals.  If your goal is to retain the marital home, let's talk about that before you make an emotional decision and agree to a court order you may not be able to fulfill.
Here are 3 tips to consider when deciding if you should try to stay in your marital home after divorce:
1. You will need to obtain a new mortgage that is in your name only. Make sure you are pre-qualified for an equity buyout refinance prior to mediation or meeting with your attorney so you know what options are available to you.
2. Even if you are qualified for an equity buyout refinance, you need to determine if the monthly housing expense will fit your current lifestyle and expenditures. If not, are you willing to sacrifice your lifestyle to remain in the home? If you aren't willing to change your spending habits it may be best to find a new home that better suits your budget and lifestyle.
3. Don't turn a blind eye to deferred maintenance. Before agreeing to any division of equity you should have a home inspection performed, just like you would if you were purchasing a new home.  Identify big ticket items that need to be addressed like the roof, foundation, appliances, exterior and interior paint and systems like your HVAC and hot water heater.  These expenses should be taken into consideration prior to establishing the amount of equity in the home.
If your goal is to start over and create a new home environment, let's talk about budgeting and how to best position yourself to purchasing your new home and getting a mortgage after divorce.
Here are 3 tips to consider when deciding on buying a new home:
1. Establish a realistic monthly housing budget. Don't forget that you'll need to account for not only the mortgage payment but also property taxes, homeowner's insurance, any applicable homeowner's association dues and maintenance on the home.
2. If support income is relied on for budgeting and qualification purposes don't forget that at some point in the future the support income will cease. You'll need a plan on how you will replace this income in the future.  Additionally, there are specific mortgage guidelines regarding the required receipt of and continuance of support income to qualify.
3. If your spouse took the lead on administrative and maintenance tasks like paying the mortgage and utilities, scheduling or performing house related maintenance items, shopping homeowner's insurance annually, filing for homestead exemption, monitoring your property tax assessment, keeping your termite bond up to date, etc. you should consider taking a homeowner's course like HomeView.
Let's talk about qualifying income in getting a mortgage after divorce.
Don't assume that actual income is qualifying income.  That is the number one mistake I see with divorcing couples.  There are very finite rules as it applies to using child support and alimony, and or maintenance support as qualifying income.  There may be a waiting period to use income to qualify if you are returning to the work force after an extended absence.
While Fannie and Freddie are silent on a specific time frame one must be back in the workforce to consider the income as qualifying income, there are "stable and consistent" guidelines that must be met. For example, income like commission and bonuses, are considered variable income and cannot be used without a two-year history. Additionally, hourly income may be considered variable if the hours are not stable and consistent, i.e., the same every pay period.  Self-employment also requires a two-year history documented with two years of filed tax returns.
If you need income from employment to qualify it is always best to be paid on a salary basis.  Returning to the same line of work you were in prior to exiting the workforce, or entering the workforce in a profession for which you have earned a degree or certification during your absence from the workforce would also work in your favor.
For example, if you worked as an accountant prior to exiting the workforce and returned to the workforce as a salaried accountant, that would be acceptable qualifying income with no waiting period. As would reentering the workforce as an RN if you received a nursing degree while absent from the workforce.
It's always best to consult with a Certified Divorce Lending Professional prior to entering into any legal agreement.  There is no cost to consult with a CDLP.  By providing strategic solutions and tactics during the divorce process, it is our goal to earn your trust and develop a relationship.  Now may not be the best time for you to engage in an equity buyout refinance or purchase a new home.  IN other words, maybe this is a good time for you to rent for a year or two.
Remember this: a home is a home whether it is rented or owned. You can still make memories for your children, and those memories come from love, joy, laughter and safety. And when the time is right, we hope we have earned the opportunity to be your trusted mortgage partner. I'm here to talk if you'd like a complimentary consultation.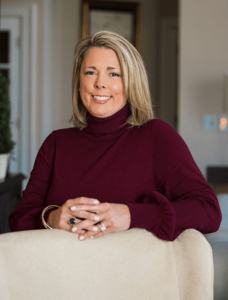 A 26 year veteran in the mortgage industry, I've originated mortgages in metro-Atlanta since 1998 and am licensed in AL, FL, GA and TN. In 2019 I became a Partner/Co-Owner of Neighborhood Mortgage, Inc. founded in 2001. I take great pride in my role as Vice President of my organization and serving my community and business partners as a trusted mortgage expert. In 2022 I was awarded the NAMB Southeast Region (25 or more employees) Mortgage Broker of the Year. Additionally Neighborhood Mortgage was named the 2022 Best of Forsyth Mortgage Lender of the Year.
As a Certified Veterans Lending Specialist I help Veterans navigate their VA Home Loan Benefit, The VA Home Loan is one of the best mortgage financing vehicles available in the United States. I highly encourage all eligible Veterans to explore this benefit and offer expert advice on obtaining the financing that best meets their needs.
Also, a Certified Divorce Lending Professional (CDLP®) and a Certified Amicable Divorce Professional (CADP), I help divorcing homeowners make more informed decisions. As a member of the ADN, and as a CADP, I partner with divorce professionals who respect your choice to divorce peacefully.
Additionally, I am a condominium lending expert, having worked as the preferred lender for many metro-Atlanta developers from 2002-2008 during the condo boom. I was selected as a preferred lender by many of Atlanta's most respected builders and developers, proudly serving more than 30 condominium communities since 2002.
Born and raised in the great state of Alabama, I relocated to Atlanta in 1997 when I began my career in the mortgage industry. My husband of 20 years and I reside in Alpharetta with our daughter and black lab, Bear Bryant Brown, Jr. In our spare time you can find us hosting or attending a tailgate, at the beach, on the golf course, at the softball fields or spending time with our large family from Kentucky to Colorado.
With access to over 20 investors and banks, I work with clients to identify the financing that best meets their needs, secure the best terms for that financing, and deliver the best customer service experience in the industry. I bring a broad range of products, Conventional, FHA, VA, USDA, Jumbo, Fixed and ARM products as well as Non-Agency portfolio products to the table. With low overhead, I have the ability to offer the most competitive loan packages available in the marketplace. Learn more on our website.
Share