It was a typical cold, wintry, Thursday night in the burbs of Chicago. Snow was on the ground, the wind was bone chilling, and most people were in their homes, snuggled up watching Grey's Anatomy, Parks and Recreation, or the first two seasons of Homeland via On Demand.
I'd highly recommend all of these, by the way, but last Thursday night, I was not under a blanket watching the show I swear time and time again I'm going to stop watching, but never do, because I've been hooked since season one, and just can't part with McDreamy and all the other loveable characters on Grey's Anatomy.
I braved the cold, and met two of my girlfriends at a bar and restaurant close to where we all live. My friend, Patty is divorced and remarried, and Susan is married.
We all got there around the same time and I immediately see a couple waving at me: my friends, Lisa and Chris, who just got married two months ago. They were all smiles, the look reserved only for newlyweds. They were so cute, I could barely stand it.
Both on their second marriages, Lisa and Chris actually met at the very same bar where we were. They actually met because of me, and every time I see them, they shower me with hugs and gratitude, which I really don't feel I deserve, because it's not like I set them up.
The story is, about 2 and a half years ago, I told Lisa to come meet me and some friends at a bar/restaurant. I also told another friend to meet us, and she invited a guy she was dating at the time, who ended up coming and bringing Chris.
I always tell Lisa that the second he walked in, he saw her and was in a daze. I really believe it was love at first sight. I always joke with him that he never even looked at me.
The point of this story is that so many people who are going through a divorce can't really envision ever meeting anyone again. I think it's normal to feel that way for a long time, but I wanted to share Chris and Lisa's story to offer hope, because truly, it can happen.
I want to give my signature piece of advice, though, and explain that Chris and Lisa had both been divorced for awhile. In other words, they didn't "jump" into the first relationship they had. Both of them had relationships with other people before they met and I truly think that is so key when it comes to the success of a second marriage.
I also want to talk about the happiness of both gf's I was with. First, Susan is blissfully married. I know you are rolling your eyes right now, but she is someone who I really feel has a great marriage. Her husband is crazy about her. It's actually adorable. They have three young kids, and she works full time, so things in their household are beyond chaotic. That said, I'm around them a lot and they are nauseatingly happy, which I love seeing.
Regarding Patty, she got married last year, and is really happy, too. See? My point of all this is that there is so much opportunity for a better life when the life you thought you'd have forever comes to an end.
I also want to mention that there are good people out there who are single! We happened to meet this really cute, nice, smart, successful divorced guy named Steve. He was sitting at the bar having some dinner on his way home from the office, and reading a book. He seemed like such a good person, really sweet and sincere.
So, ladies, if you think there are no good guys out there, you are mistaken. If I can go out to a local suburban bar and meet a divorced guy like Steve, I have to believe there are more good ones hanging around. Yes, there are endless losers out there, too. Let's be honest. But I do think there are really great men and women out there who want to be in relationships.
So, Thursday night was a night out for me, (the divorced girl smiling) with several other divorced people smiling. And what do I have to smile about? It's funny. I was just thinking this morning, I have everything. A job I love, a guy I love, a family I adore, and two children who I love so much it's indescribable.
There was a time in my life, (lots actually) when I didn't feel this way (except for the kids and family). So, stay hopeful because if you focus on what you love, set goals and work to achieve them, have some fun, of course, and make good decisions, you'll go from mourning the life you had that didn't work, to your new, better life that makes more sense, and that makes every day a good day. Isn't that the whole point of divorce?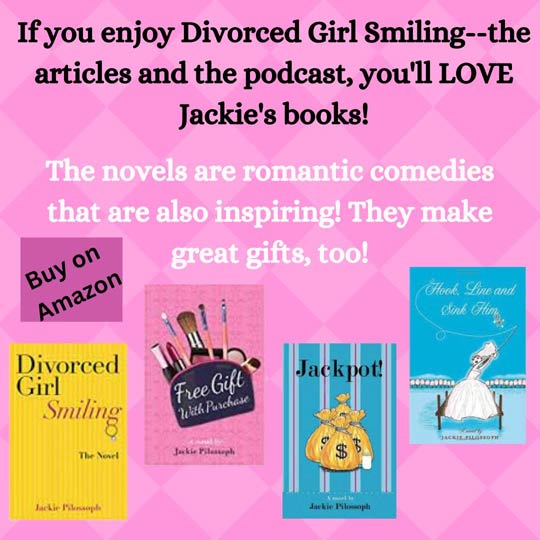 Share