I am not a therapist, (but you knew that.) I'm not a divorce lawyer, (but you knew that, too.) What I am is a divorced woman. So, knowing that I'm not claiming to have the perfect answers, here is some divorce advice from me, based on my past experiences and the experiences of my friends and other divorced people I know.
In other words, if you and I were sitting at Starbucks together and you asked me for advice about a problem, these are the things I would tell you.
1. Problem: My ex isn't speaking to me and I don't know why.  Solution:  Do nothing. Don't try to figure out why, don't call him or her and ask, "Did I do something wrong?" and certainly don't ask the kids. Just let it pass. He or she will either tell you, or he or she is having a problem that has nothing to do with you and taking it out on you because it's convenient.
2. Problem: I just got my monthly statement from my attorney and I can't afford to pay it. Solution: Call the firm and see if you can make monthly payments. Also, talk to your attorney about the situation and see if they can make an adjustment to the bill, i.e. lower it.
3. Problem: My ex is in love. I can tell. I don't want him back, but it's really bugging me. He seems ecstatic and giddy, almost. Solution: I know it's difficult. Even if the divorce was your decision, seeing your ex in love can be a bit unnerving for several reasons. One, does he really deserve to be happy after what he did to you? Two, maybe you're not dating anyone right now and you feel more alone. Whatever the reasons, you need to focus on your own life. Get the word HIM out of your vocabulary. Lastly, you have no idea what your ex's relationship is like. What seems like bliss might be anything but. Plus, everything is great at the beginning of a relationship.
4. Problem: My ex didn't pay me child support and/or alimony this month. Solution: DO NOT call your attorney before talking to your ex. Seeking legal help will just chop money off of your check. Call or email your ex, and in a nice way remind him that he hasn't paid. If he doesn't answer, send another email a few days later. Or, try calling him and leaving a polite message. If you do have to go through your attorney, at least you can say you tried.
5. Problem: My kids get really excited when they are going to dad's house, and while I know they aren't trying to hurt me, they are. Solution: Why is this a problem?? It's a really good thing! Don't be hurt. Dads are fun. Moms are all about homework and showering and making sure kids brush their teeth and eat broccoli. Even in marriages, kids want to spend as much time with Dad as they can.
6. Problem: My new boyfriend's kids hate me and they have no interest in spending time with me and/or my kids. Solution: Stop trying. Period. Just stop making an effort and trying. You aren't dating your boyfriend's kids, you are dating your boyfriend. Enjoy him. Have fun with him. The kids will eventually come around in most cases, but if they don't, it's out of your control, and pushing will only cause it to get worse. Hands off!
7. Problem: I'm afraid to love again. Solution: This is a very complex issue that needs therapy. If you ask me, I think every single divorced person should go to therapy, even if it's just for a little while. Giving your heart to someone else after going through a divorce is one of the most difficult things to do, in my opinion. It's easy to compare him or her or certain aspects of the relationship to your ex, it's easy to think of 1000 reasons it won't work out, and it's easy to talk yourself out of loving him or her. Just be careful that you don't let go of a really go person too fast. Use common sense. Look at core values. Look at the level of commitment he or she is giving you. Those things can outweigh fear any day. It's easy to be infatuated. Loving someone after divorce, however takes guts.
By the way, if you want my advice about anything to do with divorce, feel free to email me! Jackie@jackiepilossoph.net. Everything will be confidential. I might blog about you but will never use your name or give information that will identify you. Again, I'm not a therapist or divorce attorney, just a divorced person. Added benefit: My advice is free!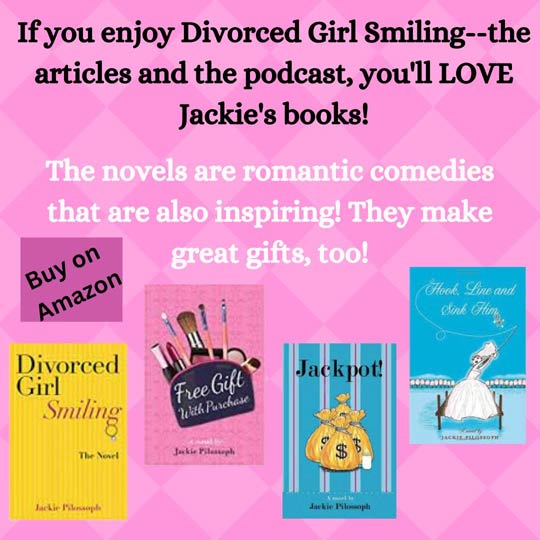 Share